Multi-family waste diversion resources
Our multi-family waste diversion tools and resources are here to help you create a food and yard waste program and recycling program for your apartment, condo or townhome.
Building owners or managers have the flexibility to choose a food and yard waste service provider and decide the best way to manage the service.
Subscribe to our email newsletter to receive updates about multi-family waste diversion. Subscribe to our newsletter.
If you have questions about a food and yard waste or recycling program in your building, we can help. Fill out the online request below or contact 311 and we can discuss how we can help.
Program requirements
Multi-family complexes are now required to separate food and yard waste from garbage for composting or another means of diversion. To learn more, please visit our Food and Yard Waste Bylaw Requirements.
All multi-family buildings must also provide recycling for residents. See our Multi-family Recycling Bylaw Requirements.
Is your building a multi-family complex?
We define multi-family complexes as five or more units on the same parcel of land. This includes high-rise and low-rise apartments, townhouses, condos, mobile home parks, housing co-operatives and housing developments on private roads.
Program tips
Learn whether your current waste and recycling pickup service is suitable for your complex's needs and make sure your bins are the right size and collected at the right frequency. See ourRight-Sizing Tip Sheet.
Looking for ways to promote waste diversion in your building? See our list of tips to encourage the proper use of bins and prevent contamination issues. See our Multi-family Program Tips.
---
Information Guides and Resources
These posters and templates can help you promote your waste diversion program. When working with your collection company, check to see if they have additional tools and resources you can use.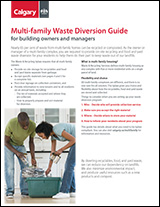 Recycling and Composting Guide for Building Owners and Managers