How to dispose of lawnmowers and trimmers
Take scrap metal to a private metal recycler through the Alberta Recycling Hotline or The Yellow Pages under Metal Recycling. Some private companies may buy scrap metal, charge a fee or accept items for free.
Take scrap metal to any City landfill Throw 'n' Go for recycling. Landfill charges will apply.
Lawnmowers (electric or gas)
Hedge trimmers
Weed wackers or string trimmers
Edgers
Special instructions:
Drain all oils and fuels before bringing in for disposal.
Landfill locations listed below: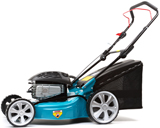 ​​​​​