Checking for lead pipes and fixtures in your home
In Calgary, lead service connections ​were only used for a short time period, primarily between 1939 and 1947, during World War II when copper was not readily available. Following the war, copper once again became the main material for service lines.
The City is responsible for the water service line that extends from the water main up to the homeowner's property line. All pipes, solder and fittings on private property are the responsibility of the property owner.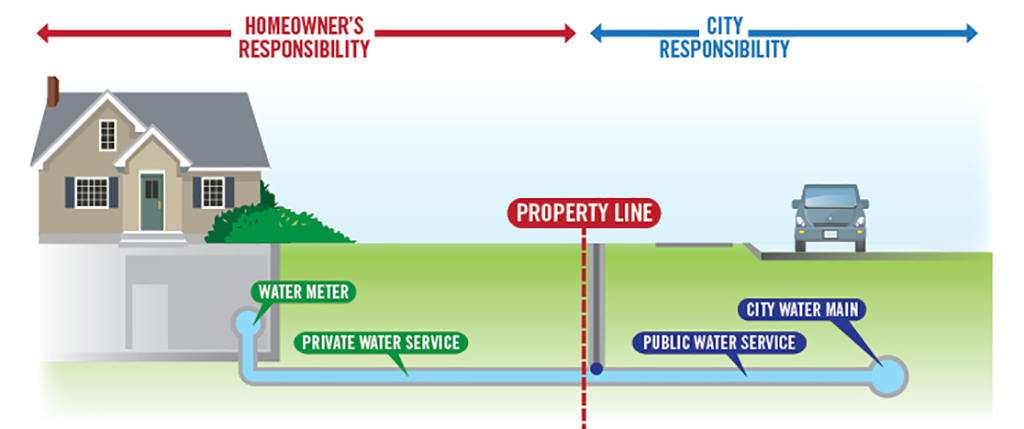 There are currently 533 homes which still have public lead service pipes, and those will be removed as part of an accelerated removal program.
If a home was built prior to 1950 will it automatically have a lead service pipe?
No. The majority of water service pipes in Calgary, including homes built prior to 1950, are made of copper.
How do I check if the private water service coming into my home is lead?
First, find your water meter. It is usually located in the basement.
Check the colour of pipe leading from outside your home to the water meter.
Copper pipes will be a brownish, copper colour.
Galvanized steel pipes will be grey.
Lead pipes are a dark, matte grey.
If your pipe is grey, you can further determine if it is lead by placing a magnet on the pipe. A magnet will stick to galvanized steel. A magnet will not stick to a lead pipe.
In addition, if you scrape a lead pipe with a coin or screwdriver, the metal will be soft and turn shiny.
If you are still unsure whether your pipes are lead, or if you are unable to reach your pipes, hire a plumber to carry out these checks for you.
Could there be lead pipes and fixtures in my home?
The National Plumbing Code of Canada permitted homebuilders the use of lead in piping in homes until 1975, and lead solder until 1986. Restrictions on lead content in brass plumbing fittings and fixtures took effect in 2013.
You can use the above tests to determine the material plumbing pipes and fixtures are made of.
If you are unsure whether your pipes, fixtures and solder are lead, or you are uncomfortable doing these tests yourself, hire a plumber to carry out these checks for you.
What if I want to have the water in my home tested?
The City currently provides water quality testing for properties known to, or likely having a public lead water service line. This program was expanded in 2020, on a priority basis, to include sample homes throughout our water distribution system. Please call 311 if you're interested in being added to the program.
The above information is provided as a first step in identifying lead service pipes and fixtures. If you have any questions about this test or identifying lead services, please consult a plumber or contact 311.
More information
Please follow these steps:
Click on the blue "View Data" button on the right.
​Type your address into the "Find in this dataset" search bar on the top right.
​​​​​​​​​