68th & Glenmore Trail Intersection Upgrade
The upgrades to 68th Street SE and Glenmore Trail will benefit both Point Trotter industrial park and Dufferin North, as well as the surrounding areas. The new lane divisions and intersection changes will provide:
Better employee access
Quick, efficient access to transportation infrastructure (airport, CP and CN rail facilities and highways)
Job creation
All of which makes the industrial corridor much more attractive to developers and businesses.
Glenmore Trail and 68 Ave intersection improvements are the next phase in opening up access to Point Trotter and Dufferin North industrial parks, increasing fluidity of goods movement to highways, intermodal facilities and the Calgary International Airport.
Change is good for everyone
There are plenty of advantages to these changes, and not just for developers and businesses. It's also good for employees, brokers and the City.
It will be 1,000 gross acres of industrial land when fully built out. That has the potential to support more than 13 million square feet of new industrial space and generate $49 million in annual tax revenue.*
It has the potential to support more than 19,000 full-time jobs.*
Businesses get better visibility and access to Stoney Trail.
Future property taxes will generate City revenue sooner than if the changes weren't done.
The 68th Street upgrades (up to and including the bridge over the Western Headworks Canal) will be done by the end of this construction year. The remaining portion is scheduled for completion in 2020.
* Estimates are based on full build-out with an average site coverage of 30%. Taxes estimated using Altus' Q2 2018 average industrial lease rate of $14.65 per sq. ft.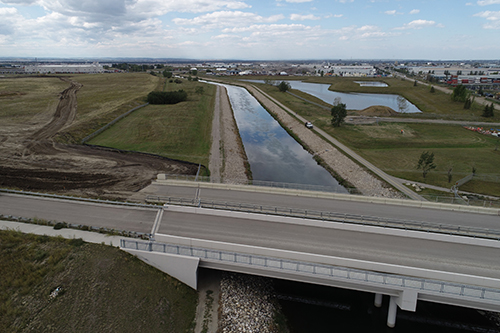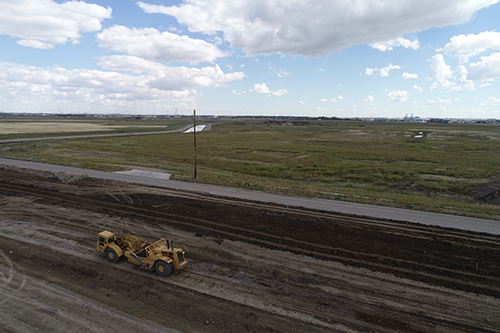 About the upgrades
68th Street SE will be a four-lane divided industrial road from 76th Avenue to 108th Avenue SE. Dedicated lanes and exit ramps on Glenmore Trail will improve flow in all directions. Real Estate and Development Services is making most of the investment in this work, along with Transportation Infrastructure, which is responsible for design and construction.
Keeping Calgary on the move
Glenmore Trail is one of the busiest commercial goods movement corridors in the city. And it's the primary east-west expressway in south Calgary. So more efficient, safer traffic flows won't just reduce congestion - it will also open up new industrial land development opportunities.
---
Interested in Point Trotter or Dufferin North lots, or have questions?
---
Related articles
---
Keep in touch
Receive regular listings, news, and information from The City of Calgary's Real Estate Development Services team.
Sign up​​​​​​​