Choosing a site for a new or expanding business is a critical decision. This is true for restaurants and shops, but also for businesses that rely on shipping and receiving goods. Transportation and storage costs have a direct impact on your bottom line.
The City of Calgary is developing several industrial parks. We sell shovel-ready serviced lots of various sizes. These are close to transportation links such as the Ring Road, the Calgary International Airport and the Canadian Pacific Railway Intermodal Facility.
The right location simplifies all your remaining business decisions.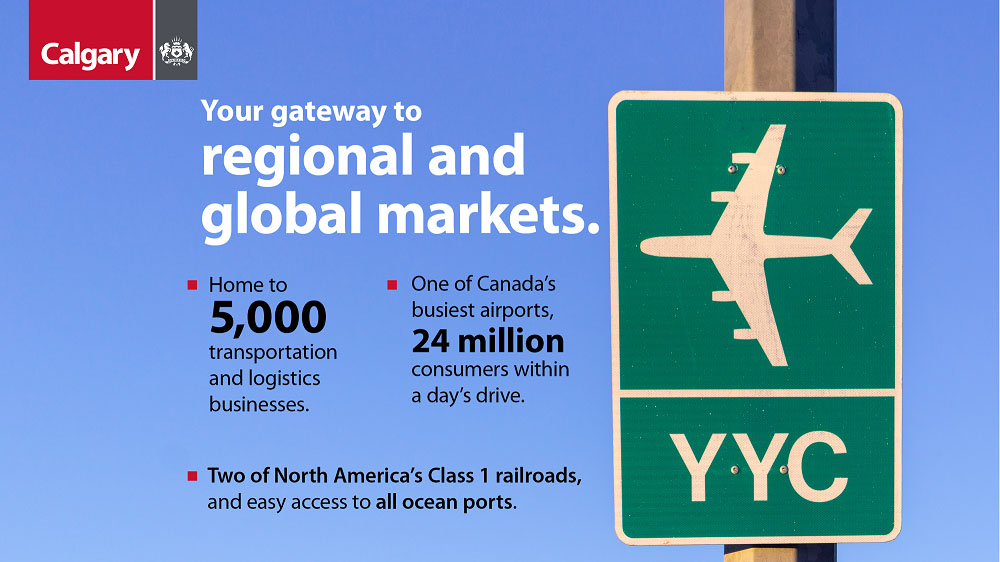 Reduced overhead
A 2018 study by Triskele Logistics found that the cost of buying a warehouse is more than $3.5 million less in Calgary than in Vancouver. Our city is also less expensive when it comes to leasing. What's more, our city has more options than Vancouver, especially when it comes to larger properties.
The report also found that distribution costs are lower. The cost of shipping 1,000 truckloads from Calgary to places within Western Canada was almost 50% cheaper than from Vancouver ($983,000 vs. more than $1.7 million).
At first glance it appears that Vancouver's proximity to Asia and California makes it a cheaper destination for goods shipped from these destinations. While that's true, it fails to account for the cost of shipping goods on to customers throughout North America. Calgary sits on the TransCanada Highway (east-west) and Highway 2 (north-south), which means 50 million people are accessible by ground transportation within 24 hours.
These factors more than make up for the higher cost of shipping from Asia to Calgary.
"In discussions with industrial real estate agents, the underlying theme was that Calgary was significantly less expensive for purchasing or leasing new or existing warehouses and land than the greater Vancouver region. Calgary also has many more medium to large land options."
–Steve Banks, President, Triskele Logistics Ltd
​​
Other advantages
A crucial part of your supply chain is the supply of trained workers. Calgary has the youngest population of major Canadian cities. The city is also home to post-secondary institutions that offer courses in supply chain management.
It's why companies like Walmart, The Home Depot, and Canadian Tire Group have set up distribution centres in the Calgary region.
More about the sectors we serve​.
​​​​Get in touch​​​
Related articles
Keep in touch
Receive regular listings, news, and information from The City of Calgary's Real Estate Development Services team.
Sign up​​​​​​​
 ​​