Body-worn and in-car cameras
Police officers are entrusted with extraordinary powers and often work in dynamic and high-conflict situations. Cameras that record police interactions with the public can play a crucial role in protecting both the public and our officers, as well as supporting a fair justice system.
Our cameras
At the Calgary Police Service, we have two types of cameras that our front line officers use:
Body-worn cameras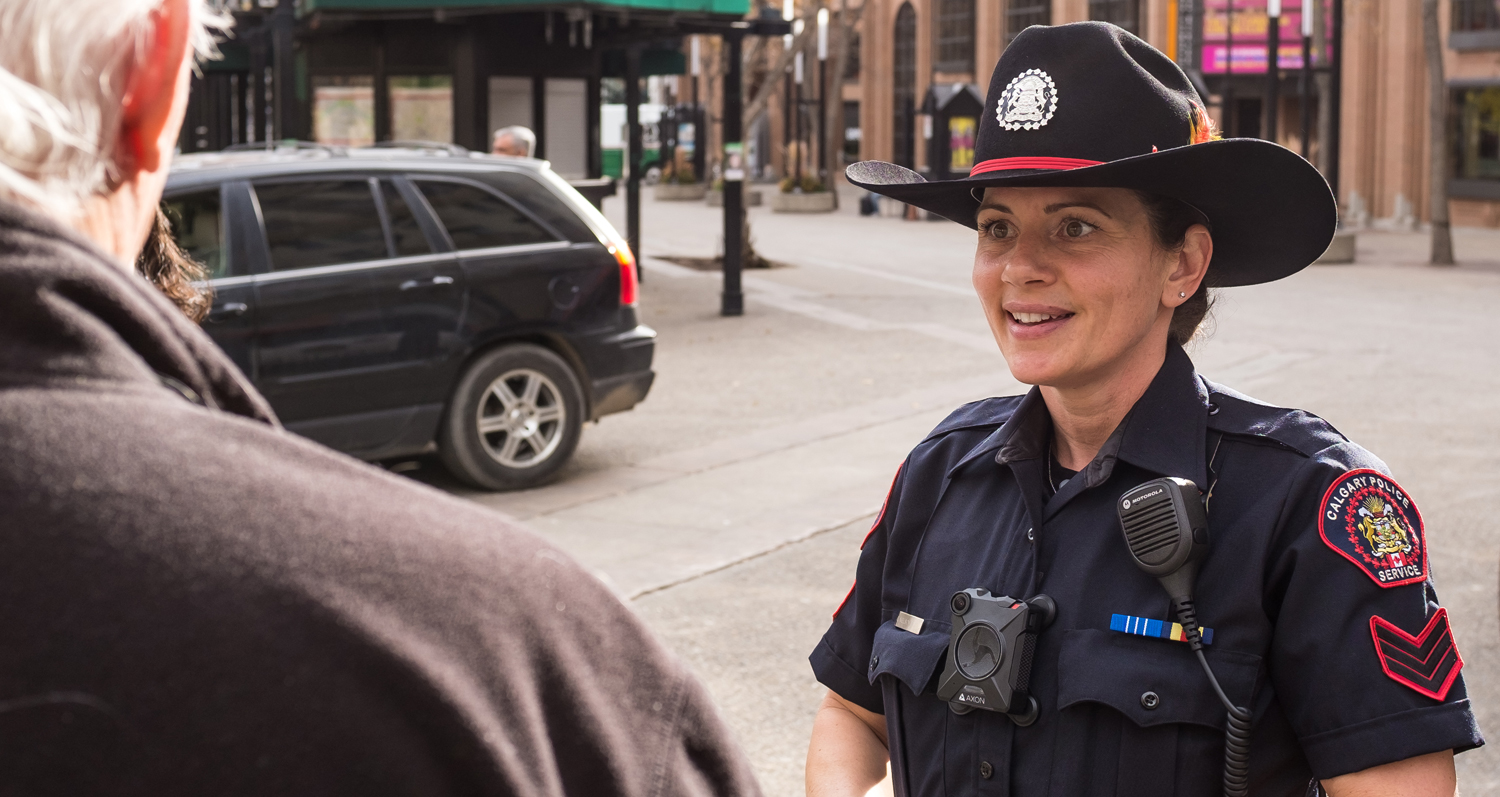 Patrol, traffic and some specialty officers carry a camera approximately the size of a pack of cards on the front of their uniform. The officers turn the camera on and off to record audio and video as required and every recording includes the 30 seconds before the camera was activated.
These cameras have a light that visibly indicates it is recording. However, officers can disable this when required for officer safety (for example, if the light would give away their location at a nighttime incident involving a person with a firearm).
Officers are expected to use these cameras whenever they have an interaction with the public, and especially when:
An arrest or detention is likely or happening
The use-of-force is possible
They are having an investigative contact with the public
A legal demand is being made
A charge is being laid
Officers are not required to tell you they are recording, but we train them to do so when they can.
In-car cameras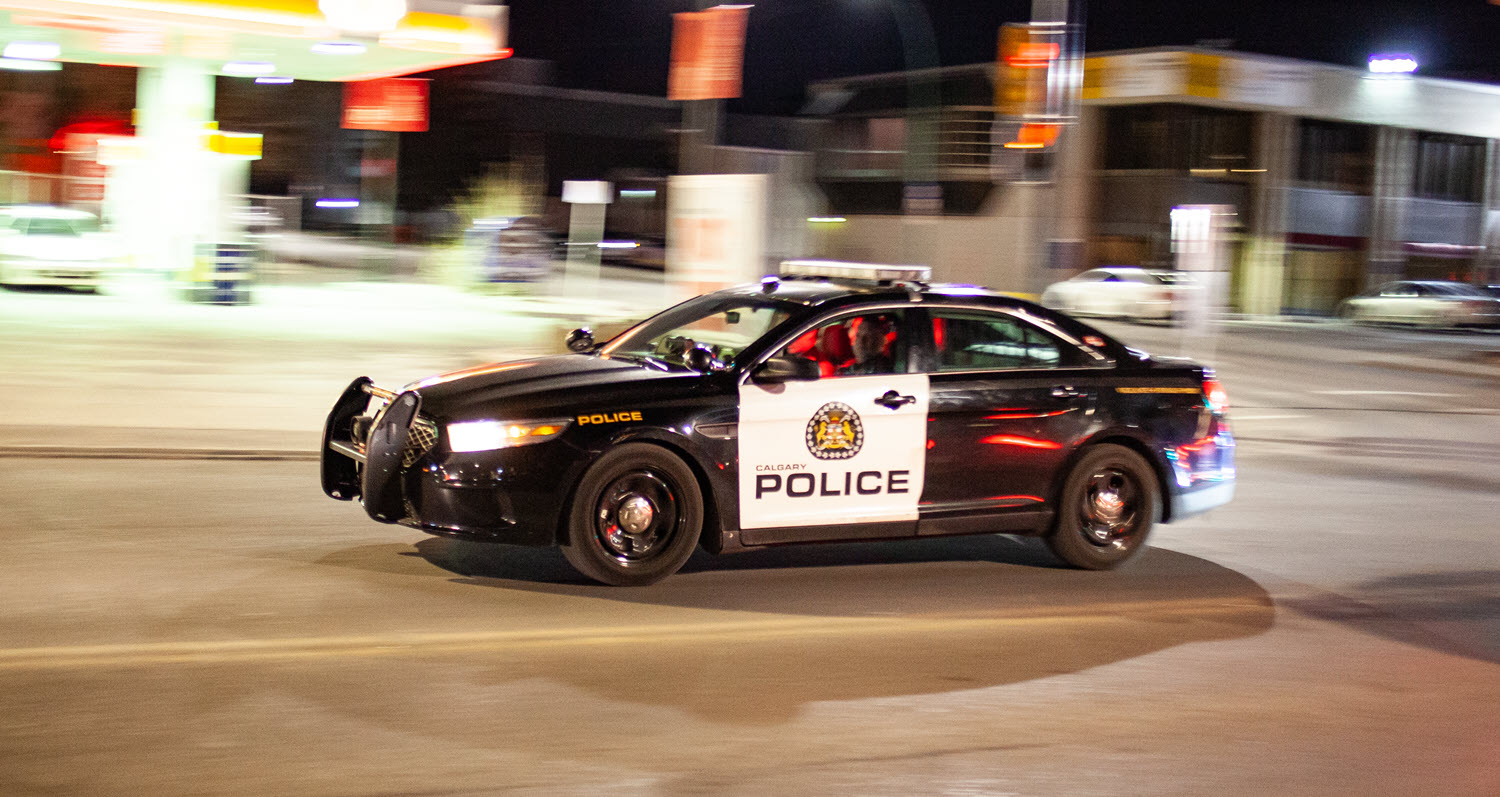 Front line police vehicles are equipped with both dash cameras and back seat cameras that record audio and video. They are automatically activated when the emergency lights are turned on or the vehicle is involved in a collision.
These cameras constantly store 30 seconds of footage, so every recording includes the 30 seconds before the cameras were activated and ends only when an officer manually shuts them off.
Officers are expected to use these cameras whenever they have an investigative contact with the public, are transporting an arrestee, are in a pursuit, or if it would benefit an investigation.
Privacy concerns
A privacy impact assessment was completed in January 2019 to assess and mitigate any risks posed to privacy through the use of body-worn cameras. Any recording made by either of our cameras are subject to Alberta's Freedom of Information and Protection of Privacy Act and Health Information Act when officers are in healthcare facilities.
The recordings are disclosed to the courts and legal counsel when required, but private information of third parties captured in any recording is first redacted.
Effectiveness of cameras
In-car cameras have been used by our Service since 2012 and body-worn cameras were deployed to all Patrol, Traffic Section and some other front-line officers in April 2019.
Evaluations of our officers' use of both body-worn and in-car cameras have found evidence that the technologies help create a more efficient accountability process and reduce incidents where force is used.
When body-worn cameras were deployed, we had five goals in mind:
Enhancing transparency, public trust and confidence
Enhancing officer accountability and professionalism, and providing real-life training examples
De-escalating situations and reducing incidences of the use-of-force by and against the police by affecting the behaviour of individuals who are aware of the recording in progress
Protecting officers from unfounded allegations of misconduct and increasing the efficiency of the resolution of complaints against the police
Improving evidence collection, documentation, and prosecution, including early case resolution
Reviews of both camera systems were conducted in late 2020 to evaluate the impact of these tools, provide improvement recommendations and help guide future strategic decisions.
You can read the full reports below:
Body-worn Camera 2020 Evaluation Report