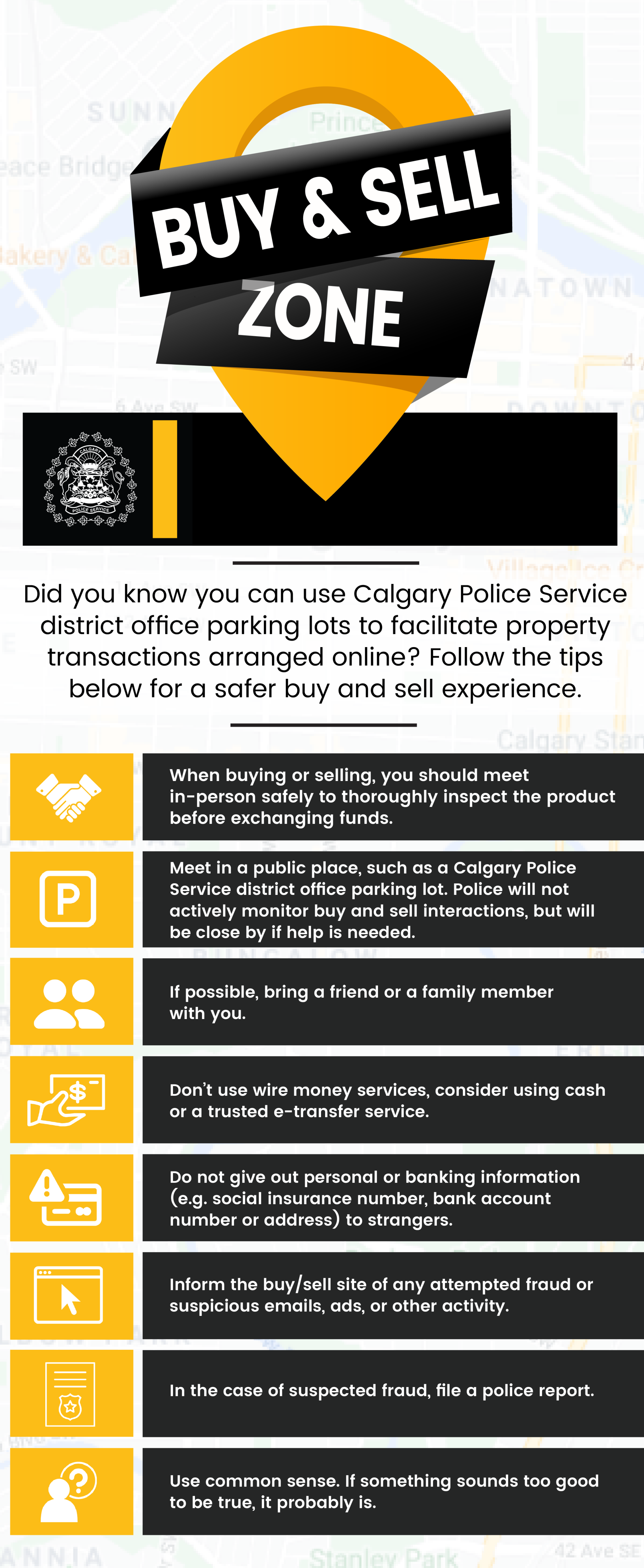 Public Service Announcement: Buy & Sell Zones

In order to increase public safety and reduce crime, the Calgary Police Service is inviting members of the public to use district office parking lots to facilitate property transactions arranged online.
 
Online classified and auction sites are often used as a tool to sell stolen property to unknowing victims, and can present a safety threat. Citizens are encouraged to attend any district office parking lot to facilitate these transactions where the presence of law enforcement, or video surveillance, may deter unlawful behavior.

Police officers are able to assist in matters of bylaw, provincial and criminal offences; however, they are unable to assist in negotiating civil property transactions.
Purchasers are encouraged to use the Canadian Police Information Centre's online database to search the serial number of the item they are looking to purchase as one method to ensure it has not been reported stolen. www.cpic-cipc.ca

Tips for safer internet buy-sell experience

Meet in a public place with many people around, such as a Calgary Police Service district office.
If possible, bring a friend or a family member.
When buying or selling, you should meet in-person to thoroughly inspect the product before exchanging funds.
Keep things local and in cash.  Don't use cheques or money wiring services.
Do not give out personal or banking information (e.g. social insurance number, bank account number or address) over the Internet.
Inform the buy/sell site of any attempted fraud or suspicious emails, ads, or other activity.
In the case of suspected fraud, file a police report.
Use common sense. If something sounds too good to be true, it probably is.
For a list of district office locations, go to calgarypolice.ca and search "districts".