About our mounted patrols and the horses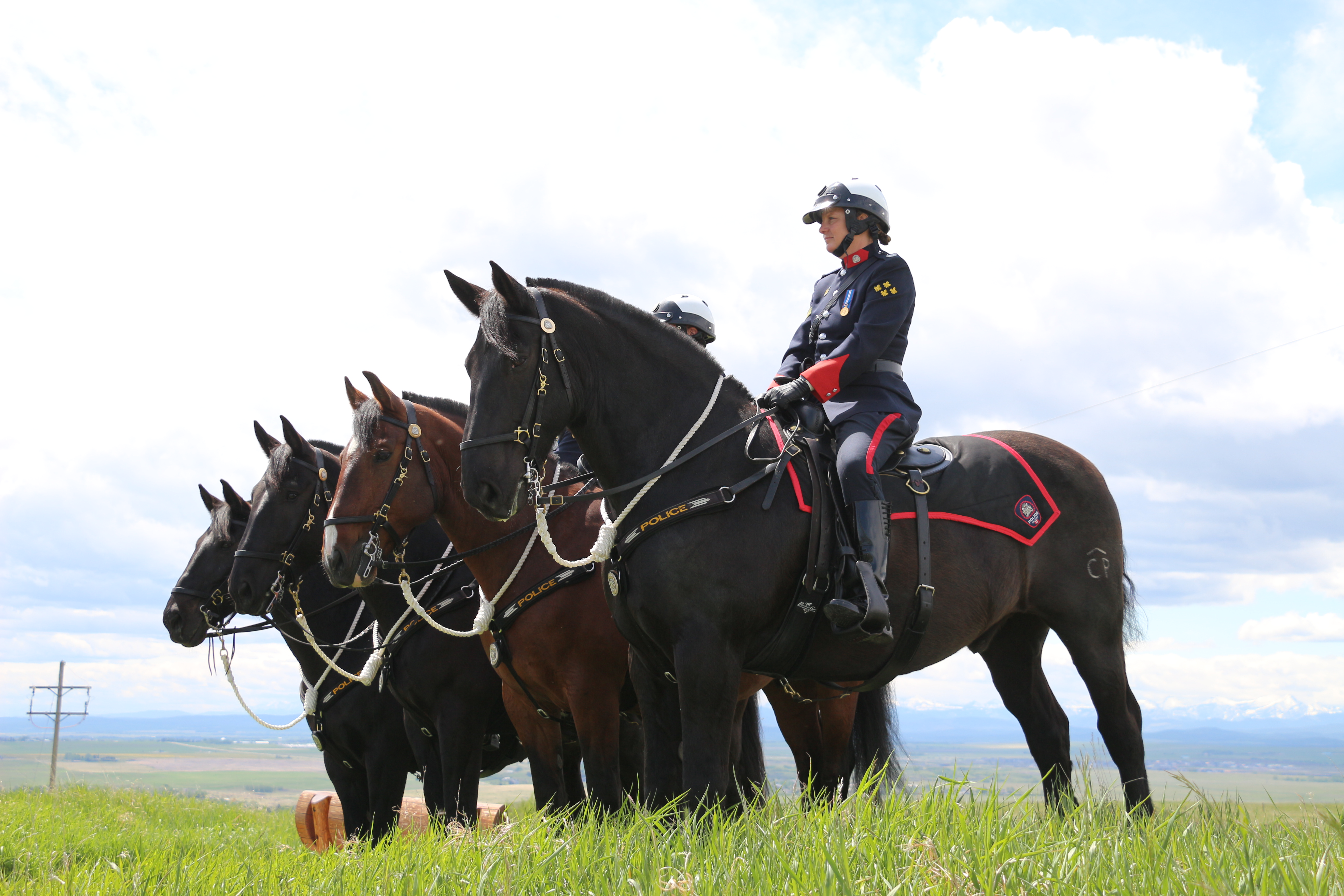 Our History
The CPS Mounted Unit was first formed in 1910 and ran until approximately 1939 when the Second World War began.
In 1940, the Calgary Special Constabulary was formed which was an auxiliary unit included a mounted and dismounted section.  These special constables objective was to aid in the maintenance and/or restoration of order and "civil morals" and the alleviation of distress resulting from emergencies. This included protection of city resources, most importantly the Glenmore Reservoir. In January 1942 a split occurred, and the mounted section reformed as the Calgary Mounted Constabulary and ran until 1944.
The Mounted Unit was re-formed in 1979 and has evolved over the years into the unit it is today.
The main operational duties of the unit can be split into Patrol, Public Order, Searches and Ceremonial.
As of Fall 2022, the unit consists of 7 horses, 4 Full-time Sworn Constables, 1 Civilian Horse Trainer/ Team Supervisor, 5 Part-time Sworn Constables and 20+ Sworn Quarry Volunteers.
When in districts, Mounted Unit Officers attend calls just like any other patrol member, however the benefit of having a mounted unit on patrol is the huge presence, even before any interaction takes place with anyone.
Members of the Mounted unit find that wherever they are, the unique thing about their role is that members of the public are drawn to them in the vast majority of cases in a positive manner and wish to interact, even if they have had negative experiences with police in the past.
The Mounted Unit are instrumental in searching urban and rural areas within the city and nearby, that may be difficult to access by foot or vehicle. Due to the tall stature of officers on horseback, they gain a unique perspective and have an extended field of vision. It is said that dependent on the terrain 1 Mounted Officer can cover the same search area as 20 Officers on the ground.
Both locally and Nationally, Mounted Unit Officers who are deployed in Crowd Management situations offer a unique observation platform, while also having the ability to move large crowds with specific tactics.
The Ceremonial duties we are involved in include Chiefs Awards, Memorial days, Remembrance Day, Graduations, Police funerals and Stampede Parade.
The vision of the unit is:
"To enhance the Mounted Unit's capabilities and capacities; and


To be a highly operational unit in the Calgary Police Service" 
In 2016, the Mounted Unit instituted a new naming protocol for PSHs that are welcomed to the Unit. PSHs are now carefully named after important events in Canadian Military history so as to honour the courage and sacrifice of Canadian servicemen and servicewomen who have defended Canada with great courage and honour throughout our history.
CPS Police Service Horses
PSH Vimy (retired)

Joined CPS: 2016

Breed: Percheron

Date of birth: April 9th 2006

Birthplace: Ontario

PSH Vimy has been a PSH since 2006 and was a 10-year-old without much experience in his life. He was used as a trail mount prior to becoming a PSH and was ready to find his calling in life. PSH Vimy is named after the 'Battle of Vimy Ridge' in honor of those Canadians who fought for our freedoms in 1917. He currently is our biggest horse standing 17.1hh! His breed compliments a strong work ethic that can work steady all day. Vimy's trainer nick named him "Mr. Downtown" as he is so comfortable with the traffic, parks and busy scenery downtown Calgary offers. He loves being a Police Horse and is so kind to everyone he meets. Vimy enjoys splashing in the bow river and appreciates stopping for a drink and break while on duty. Vimy has been the go-to mount for our Calgary Police Chief while in the Calgary Stampede parade and ensures a safe and steady experience for our top leader!

PSH Ortona

Joined CPS: 2017

Breed: Percheron x Thoroughbred

Date of birth: May 1, 2004

Birthplace: Alberta, Canada

PSH Ortona has been with the service since May 2017 and has been a strong serving police horse since then. He stands a solid 16.2hh, brown in color and oozes quality in his stature and make up. He was named after the 'Battle of Ortona' in respect to those who died and fought for Canadian liberties and freedoms in Italy, 1943. He required very little basic training when he joined the Mounted Unit since he had already had a few disciplines under his cinch. He has previously been a trail horse, vaulting horse and jumping horse, where he competed at Spruce Meadows. PSH Ortona has a forward and brave disposition and is happy to lead the troop during tasks that require a team effort. He is especially helpful in the training ring when new Officers to the Mounted Unit learn their equitation and Mounted Patrol skills. He makes a very good lesson horse as well as an exceptional patrol horse. Ortona's favorite activities include playing soccer and fighting crime.

PSH Dieppe

Joined CPS: 2018

Breed: Belgian x Andalusian

Date of birth: April 29, 2008

Birthplace: Lamont, Alberta

PSH Dieppe was born and raised in Alberta, Canada and started his life with a very loving owner who raised him for 9 years before becoming a Police Service Horse. He is a strikingly handsome bay gelding, standing at 16.3hh with a compliment of a heavy draft breed mixed with Spanish horse, his agility and strong body is ideal for a rigorous career as a police horse. He was named after the "Dieppe Raid" that took place in France on August 19, 1942 where 916 Canadian troops lost their lives during the disastrous battle during the second world war against Nazi Germany. Dieppe's heart is pure gold and puts all his effort into his job as a patrol service horse. His kind eye expresses his enjoyment of people's company and aims to please his Mounted Officer with all that is asked of him. In the herd, he is the smoothest to ride and assists new Officers of the Mounted Unit learn equitation techniques without fail. He is usually the first in the Bow River when the opportunity arises and loves to splash and swim!

PSH Normandy

Joined CPS: 2019

Breed: Clydesdale

Date of birth: July 17, 2010

Birthplace: Edmonton, AB

PSH Normandy is a handsome stout guy standing at 16.2hh. He is black in color with lots of chrome! He enjoys people's attention and is sure to get heads turning with his flashy white stockings and white blaze on his face. PSH Normandy was named after the 'Battle of Normandy' during the second world war in Normandy, France in 1944 where over 5000 Canadians perished over the grueling two-month battle. PSH Normandy is always calm and confident which makes him take the scene of the city in stride. PSH Normandy enjoys taking breaks while talking to the public and trying to sneak in a snack with any tree or shrub nearby. He is most happy when receiving pets from children and even happier when its feeding time!

PSH Anzio

Joined CPS: 2020

Breed: Percheron x Standardbred

Date of Birth: Feb 4, 2015

Birthplace: Dawson Creek, BC

PSH Anzio is a young and fresh minded gelding just starting out his career as a Police Service Horse. He was named after the 'Battle of Anzio' that took place during the second World War in early 1944 where allied Canadian soldiers sacrificed their lives for the victory against Nazi Germany. He stands tall at 16.3hh and is solid black in color. This boy is a magnet for attention and seeks to please anyone and everyone who he meets. He is rounding out to be an exceptional police horse with his desire to learn and explore all the curiosities the City of Calgary brings to the job. He has a strong work ethic and is first at the gate in hopes to be chosen for patrol or training for the day. PSH Anzio's strongest duty so far is searching for missing persons, as he thoroughly enjoys riding out into the forested trails within the city parks and rural areas.

PSH Kapyong

Joined CPS: 2022

Breed: Canadian x Percheron

Date of Birth: August 1, 2014

Birthplace: Alberta

PSH Kapyong is a bold and handsome gelding standing at 16.2hh. Half of his breeding is Canadian which is Canada's own national horse. Canadian breed horses are also known as the "Little Iron Horse" for their hardiness and strong work ethic. "Kappy" is a happy fella when he gets selected to work that day. He has a heart of gold with a curious personality that cannot be missed! 'The Battle of Kapyong' was a battle during the Korean war in April 1951 where Canadian Troops allied with United Nations against China and North Korea. PSH Kapyong is a proud Police Service Horse and shows this by his dedication to the Calgary Police Service goals each day.