People charged with a criminal offence are required by the Identification of Criminals Act to have their fingerprints and photograph taken prior to trial. These fingerprints assist in identifying an individual before their court appearance. If you are found "not guilty," you or your legal representative can request that your fingerprints and photograph be destroyed.
If you are convicted of an offence, you can be ordered to provide a DNA sample for the National DNA Databank. For certain offences, including murder, manslaughter and sexual assault, offenders are required to provide a sample. For others, including impaired driving, assault and robbery, it's up to a judge's discretion to order a sample be taken.
What happens during fingerprinting?
The fingerprint process takes approximately ten minutes.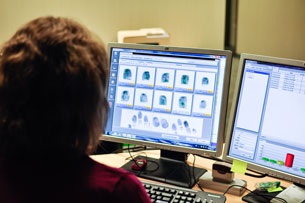 The forensic analyst obtains descriptive information, such as height, weight, date of birth and identifying marks or tattoos.
A digital mug shot picture is taken.
Fingerprints from both hands will be taken using either paper and ink, or an electronic digital scanner. A full impression of your palm prints may also be taken.
Once complete, you sign the fingerprint forms.
What happens during DNA collection?
The DNA process takes approximately 15 minutes.
The forensic analyst will read the court order and explain the DNA process to you.
A full set of fingerprints will be taken.
The forensic analyst will use a small lancet to pierce your finger and collect three or four small drops of blood.
What do I need to bring with me in order to obtain finger printing?
For criminal fingerprinting or DNA collection, you will be required to bring:
personal identification; and,
a copy of the documentation you received when you were ordered to appear for fingerprinting or DNA (i.e. Appearance Notice, Promise to Appear, or Court Order).
Do I need to make an appointment?
No appointment is necessary, although you must appear on or before the date given in your paperwork to avoid a further criminal charge of Failing to Appear.
Whom do I contact to make an appointment?
For questions/concerns related to fingerprinting or DNA collection, please contact the Criminal Identification Unit at 403-428-2064.
Where do I go for criminal fingerprinting or DNA collection?
Criminal Identification Unit
Calgary Police Service Westwinds Campus
East Building
5111 - 47 St. N.E., Calgary, AB
Phone: 403-428-2064

Hours of operation:
Monday to Friday 8:30 a.m. to 3:30 p.m.
Closed weekends and Statutory Holidays
Where do I go for non-criminal fingerprinting?
Effective May 1, 2010 the Calgary Police Service no longer provides non-criminal fingerprinting services for all civil matters such as immigration, name changes, international adoptions and pardons . There are various private companies in Calgary that provide these services; please refer to the yellow pages or internet for a list of these organizations.
Why do we no longer do fingerprinting for immigration reasons?
The CPS Police Information Check is focused on providing fingerprint services for only those applicants who require a police background check or vulnerable sector screening. Fingerprinting for immigration purposes requires the collection of fingerprints only, and there are several private companies in Calgary that can provide this service with more efficient turnaround times for Calgarians.
How much does it cost to obtain certain types of fingerprinting?
For costs associated with certain types of fingerprinting, please refer to our information regarding Police Information Checks.
Additional resources