Overview
The City of Calgary has prime industrial property for sale in strategic locations, perfect for companies working at any point in the construction process.
Not only is the city a major transportation hub with access to numerous routes, Calgary is a vibrant city that attracts and retains a robust labour force. Being in the city also means better visibility and accessibility for current and potential clients.
Access amenities
Rail, transport and highway access
Access to skilled trades labour
Police, street lighting, and other security measures readily available within city limits
High visibility from major roads and easily accessible to employees and clients
Access expertise
We advocate for you with City partners and networks
We work with you on design and customization
We help you thrive so Calgary thrives too
Access at Point Trotter and Dufferin North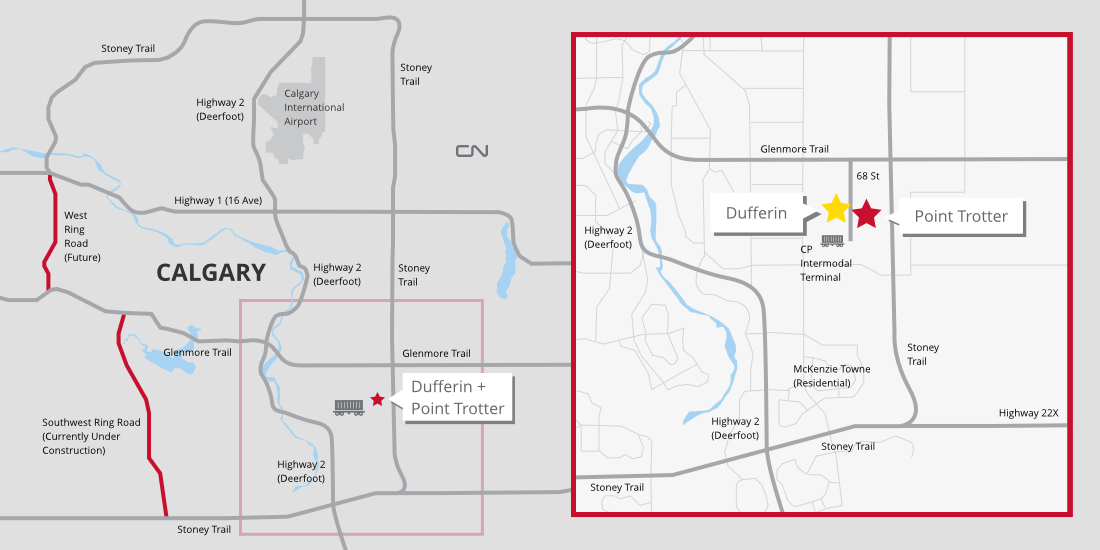 Point Trotter Industrial Park

Ideal industrial real estate for businesses that need smaller lot sizes, such as wholesale trade, logistics, construction, manufacturing and agri-business. Point Trotter has lots from 1.6 to 5.58 acres, fully serviced and ready for development. Land use is I-G and I-C. Central to S.E. business parks with quick access to highways, airport and rail.

Dufferin North Industrial Park

​Customized lot configuration on S.E. Calgary industrial property with medium-sized, fully-serviced parcels. If you need efficient connections to the global supply chain, Dufferin North delivers. It's just five minutes' drive to CP Intermodal and 15 minutes to CN intermodal, with easy access to highways and the airport. Total park size is 224 acres.
The Calgary advantage
Stats referenced from Calgary Economic Development, Government of Alberta, Statistics Canada


​​​​​​​​​