Point Trotter Industrial Park
Download documents
We have packaged our most requested images and brochures for easy download.
Looking for a bigger lot?
Dufferin offers large, fully serviceable lots.
Point Trotter is an ideal location
---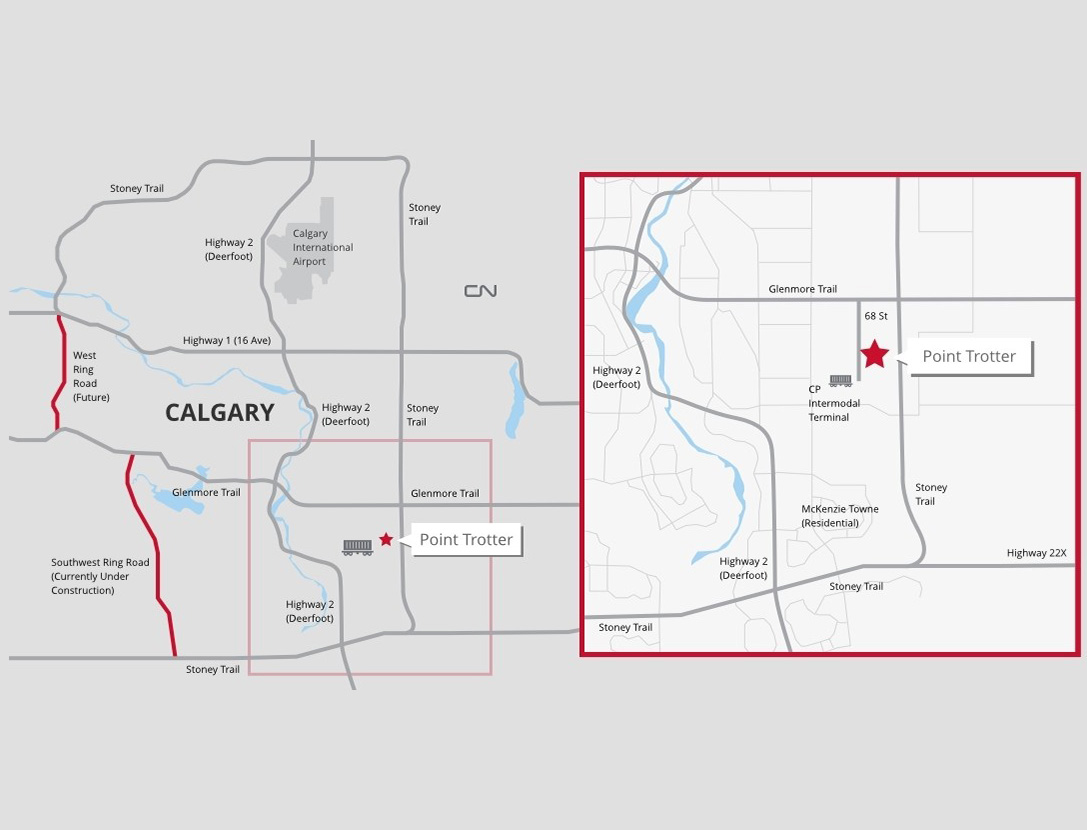 Serving the transportation and logistics sector
50 million people accessible by ground transportation within 24 hours. 
Highway distribution access in all directions across Canada, U.S. and Mexico. 
Access to Canadian Pacific's Class 1 railroad serving every major city in North America. 
Calgary International Airport (YYC) connects Calgary around the globe within 48 hours.
Learn more
Location
South of Glenmore Trail S.E. and east of 68th Street S.E. Close proximity to the Canadian Pacific Calgary Intermodal Facility. 
Architectural controls
Registered architectural guidelines for high quality sustainable building and site design elements. Opportunity for customized equivalencies. 
Access to full services, including:
Deep utilities: storm, water, sewer (The City of Calgary). Shallow utilities: power, telecommunication services, natural gas. Firefighting services (The City of Calgary). 

Size
Approximately 60 net developable acres of fully serviced land.
Zoning
Industrial General (I-G)
Download map
Point Trotter's photo gallery
---
---
---
Architectural guidelines
For consistent standards, sustainable building and site design elements, find the architectural guidelines online
Engineering drawings
The City of Calgary offers access to both digital and hard copies of various city documents, including engineering drawings.
Approvals coordination
The City wants to help our customers realize development and improve Calgary's economic stability by creating a new kind of relationship with builders.