Overview
Calgary offers manufacturers well-developed infrastructure, access to capital and a large, capable labour pool. With a concentration of buyers in head offices, the city is a fantastic location to conduct business. Because of the innovative and entrepreneurial spirit in the city, Calgary has stayed competitive in this key market.
Access amenities
Rail, transport and highway access
Access to a highly trained and motivated workforce
Neighbour with trusted, complementary businesses, including distribution and logistics
Access expertise
We advocate for you with City partners and networks
We work with you on design and customization
We help you thrive so Calgary thrives too
Access at Point Trotter and Dufferin North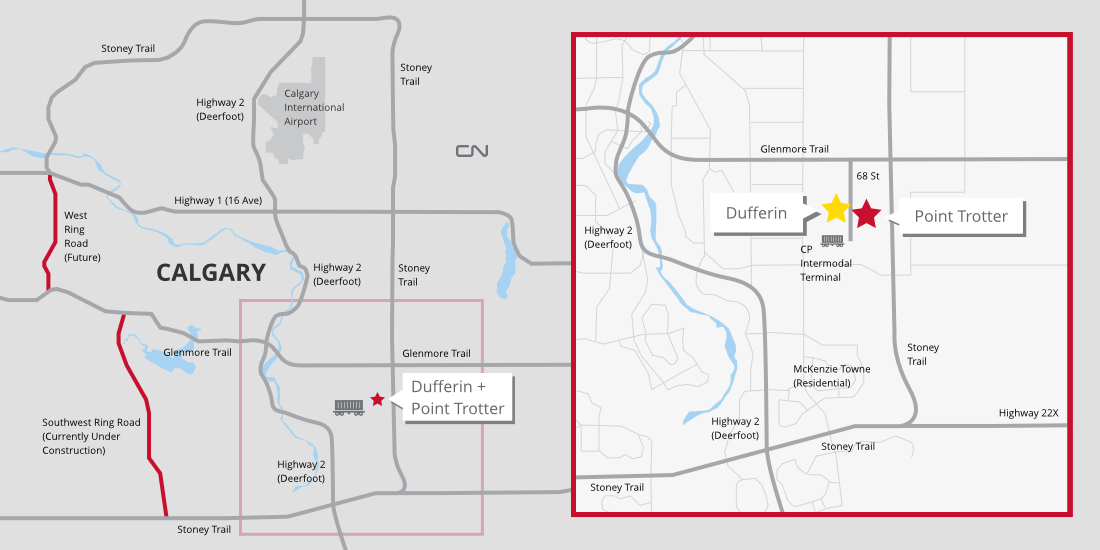 Point Trotter Industrial Park

Ideal industrial real estate for businesses that need smaller lot sizes, such as wholesale trade, logistics, construction, manufacturing and agri-business. Point Trotter has lots from 1.6 to 5.58 acres, fully serviced and ready for development. Land use is I-G and I-C. Central to S.E. business parks with quick access to highways, airport and rail.

Dufferin North Industrial Park

​Customized lot configuration on S.E. Calgary industrial property with medium-sized, fully-serviced parcels. If you need efficient connections to the global supply chain, Dufferin North delivers. It's just five minutes' drive to CP Intermodal and 15 minutes to CN intermodal, with easy access to highways and the airport. Total park size is 224 acres.
The Calgary advantage
Distances from Point Trotter and Dufferin North Industrial Parks:

Airport: 30 minute drive
CP Rail: 5 minute drive
CN Rail: 15 minute drive

Highest head office concentration per capita in Canada
1,614 manufacturing businesses in Calgary
39,000 employed in the manufacturing industry in Calgary. Learn more about Calgary manufacturing.
Within one day trucks can reach markets of 16 million people in western Canada and the Pacific Northwest.
Alberta's transport system brings over $122 billion of province-wide products to international markets each year. Learn more about logistics and market access in Calgary.
Stats referenced from Calgary Economic Development, Government of Alberta, Statistics Canada


​