Transportation and logistics management
With two intermodal rail terminals, an expanded international airport, and several major highways, we're one of Canada's biggest inland ports (second only to Toronto) and a designated Foreign Trade Zone. The City of Calgary's warehousing and distribution properties are optimally located to take advantage of these amenities: connectivity, service efficiency, low taxes and lower average wage rates for entry-level workers.
---
The Calgary Advantage
How much does it cost to move product to/from Calgary and what's the cost of buying or leasing a warehouse/ distribution centre in the city? We commissioned Triskele Logistics to get the answers for you in The Calgary Advantage: Landed Transportation Costs to Calgary and Distribution Costs for Outbound Traffic.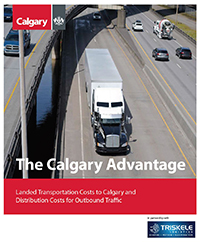 At a Glance
Point Trotter Industrial Park

Ideal industrial real estate for businesses that need smaller lot sizes, such as wholesale trade, logistics, construction, manufacturing and agri-business.

Point Trotter has lots from 1.6 to 5.58 acres, fully serviced and ready for development. Land use is I-G and I-C. Central to S.E. business parks with quick access to highways, airport and rail.

Dufferin North Industrial Park

​Customized lot configuration on S.E. Calgary industrial property with medium-sized, fully-serviced parcels. If you need efficient connections to the global supply chain, Dufferin North delivers.

It's just five minutes' drive to CP Intermodal and 15 minutes to CN intermodal, with easy access to highways and the airport. Total park size is 224 acres.
Amenities
Fluidity and velocity of moving goods
Rail, transport and highway access
Access to workforce
Shared occupancy with trusted businesses
Expertise
We advocate for you with City partners and networks
We work with you on design and customization
We help you thrive so Calgary thrives too
---