Overview
The City of Calgary has prime industrial property for sale in strategic locations, perfect for agricultural business.
Based in Canada's farming and ranching belt, Calgary has a long history with agribusiness. Because of this, Calgary has a built-in workforce with specialized skills and a multitude of distribution channels designed to fit the sector. With two intermodal rail terminals, an expanded international airport, and several major highways, we're one of Western Canada's biggest inland ports and a designated Foreign Trade Zone. In addition to regional connectivity and service efficiency, low taxes and lower average wage rates for entry-level workers attract agribusiness to Calgary.
Access amenities
Rail, transport and highway access
Access to workforce skilled in the agricultural process
Neighbour with complementary businesses and industry leaders
Access expertise
We advocate for you with City partners and networks
Access specialized skills and research
We work with you on design and customization
We help you thrive so Calgary thrives too
Access at Point Trotter and Dufferin North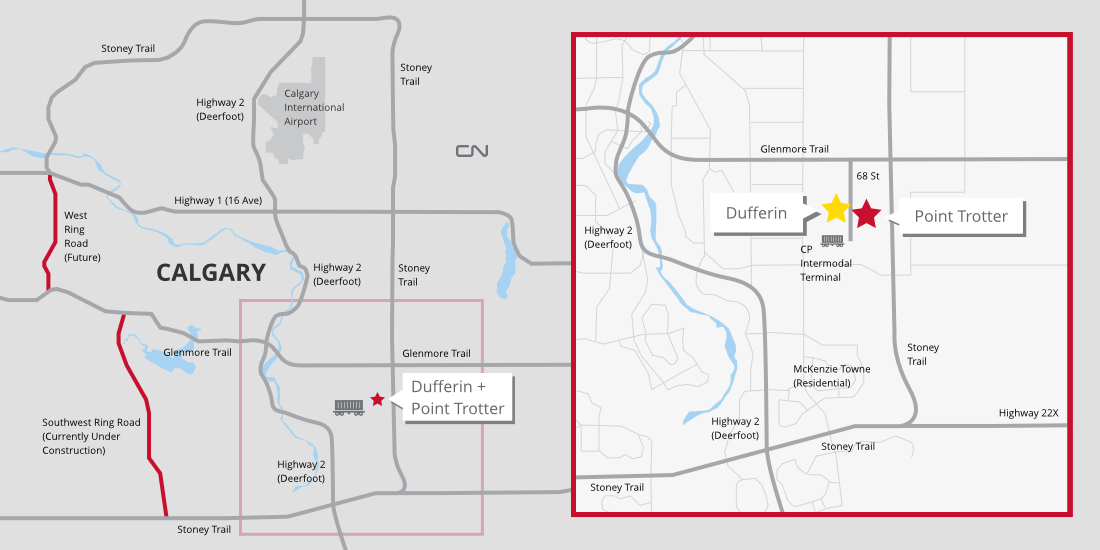 Point Trotter Industrial Park

Ideal industrial real estate for businesses that need smaller lot sizes, such as wholesale trade, logistics, construction, manufacturing and agri-business. Point Trotter has lots from 1.6 to 5.58 acres, fully serviced and ready for development. Land use is I-G and I-C. Central to S.E. business parks with quick access to highways, airport and rail.

Dufferin North Industrial Park

​Customized lot configuration on S.E. Calgary industrial property with medium-sized, fully-serviced parcels. If you need efficient connections to the global supply chain, Dufferin North delivers. It's just five minutes' drive to CP Intermodal and 15 minutes to CN intermodal, with easy access to highways and the airport. Total park size is 224 acres.
The Calgary advantage
Distances from Point Trotter and Dufferin North Industrial Parks:

Airport: 30 minute drive
CP Rail: 5 minute drive
CN Rail: 15 minute drive

With 14.5 billion in sales in 2016, employing over 26,000 Albertans, food manufacturing has overtaken refined petroleum as the largest manufacturing sector in the province.
$10 billion in agriculture exports from Alberta to 140 countries.
Calgary exports can reach 16 million consumers by truck in one day.
Alberta has 15+ agricultural research and innovation organizations (Alberta Innovates).
YYC Calgary International Airport transports 75% of Alberta's air cargo shipments. Learn more about how we reach regional and global markets.
Calgary ranks #1 most cost-competitive city for food and beverage processing.
Alberta is the third-highest cannabis consumer in the country.
Stats referenced from Calgary Economic Development, Ernest & Young, Statistics Canada and YYC Calgary International Airport
"Agribusiness is among the key sectors for growth in Calgary and the region as the city continues to grow and diversify its economy. Calgary is already a global leader and a centre of innovation for safe and sustainable food production for Canada and the world. Tremendous opportunities for growth exist across the entire agriculture value chain."
- Calgary Economic Development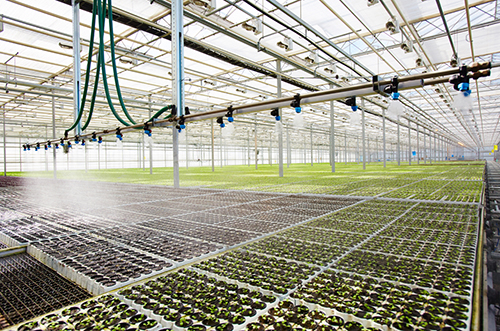 Agribusiness continues to evolve and innovate, and The City of Calgary invites industry p​ioneers to operate within their industrial parks.​
Continue reading