How to recycle VCR and DVD players
To help limit the spread of COVID-19, some electronics recycling depots may have either reduced hours or closed until further notice.
Please contact the location directly to confirm hours of operation prior to dropping off your electronics.
Usable VCRs and DVD players
Donate working VCRs and DVD players to local charities:
Old and broken VCRs and DVD players
Take old and broken VCRs and DVD players to an electronics recycling drop-off.
This includes:
Combination DVD/VHS players
Disc players (Blu-ray, laser disc etc)
Cable boxes and digital video recorders (DVR, PVR)
Special instructions
If you take electronics to a landfill and bring other garbage in your load, landfill charges will apply.
Some restrictions apply. For full details, see Electronics Recycling program.
Do NOT put electronics in your blue cart as these items can damage equipment at the recycling facility.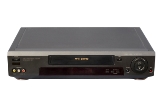 Electronics recycling depots listed below: