How to dispose of Microwaves
A microwave in good condition
Donate or drop off working microwaves to local charities:
An old or broken microwave
Take old and broken microwaves to any City landfill for free recycling. If you bring other garbage in your load, landfill charges will apply.
You can also take microwaves to Shanked Computer Recycling Inc. for free recycling.
Landfill locations listed below: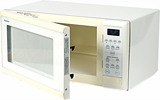 ​​​​​