How to dispose of sofas, chairs, tables and other furniture
Furniture in good condition
Donate or drop-off items to participating charities. See Alberta's Recycling Hotline.
Old and broken furniture
Take unusable furniture like couches, bookshelves and beds to a City landfill. Landfill charges will apply.
Put smaller items like lawn chairs, stools and tables in your black cart as garbage.
Does The City of Calgary pick up furniture?
No. City garbage collectors do not collect bulky items like large pieces of furniture.
Landfill locations listed below: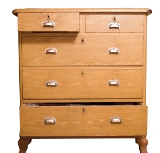 ​​​​​​​​​​​​​​​