How to dispose of mattresses
Can you recycle a mattress?
Ask your mattress retailer if they offer a recycling program or check out independent recycling options such as Re-Matt, a local mattress recycler (fees may apply).
A mattress in good condition
Donate or drop-off a mattress at a charity. Some organizations accept mattresses in good condition for donation. Contact them to confirm.
An old or broken mattress
Take your mattress to a City landfill. Landfill charges will apply.
Does The City of Calgary collect mattresses?
No. We do not collect large pieces of furniture like mattresses, box springs or futons.
Landfill locations listed below: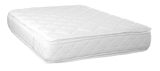 ​​​​​​​​​​​​​​​​