Firehall #6 is a heritage building that was constructed in 1906 and served as a fire station until 1967.
History of the building
The bricks used to construct this the 4,600 square foot, two-storey building were made locally at the Brickburn plant, the remains of which are located in Edworthy Park about a mile to the west of the Shaganappi Ranch House. The bricks were stamped "E.H.C." for Edward Henry Crandell or "CALGARY" for "Calgary Pressed Brick and Sandstone Company". Edward Henry Crandell bought the brick plant and the surrounding land in 1905. By 1906, Crandell had incorporated the Calgary Pressed Brick and Sandstone Company so Firehall #6 would have been built soon after that.
Is Firehall #6 haunted?
There have been some spooky reports from Firehall #6. Residents have reported hearing the sound of a bell ringing in the distance. Located next to the original Louise Street Bridge abutment, Firehall #6 was home to horses - an integral part of the firefighting teams in the early century and people have also reported hearing whinnying horses and the sound of hooves on a cement floor.
Restoration of Firehall #6
The $1.4 million project concentrated on maintaining the exterior heritage of the building while making it more energy efficient.
The site also underwent major refurbishment; both the river edge and the site pathways were redone to make them safer for all users and the 38 vehicle parking lot was moved further out from the edge of the building and redesigned for better circulation.
Interested in knowing more about Firehall #6?
The historical Firehall #6 is located at 1111 Memorial Dr. N.W. surrounded by Poppy Plaza. The current operational Fire Station No.6 is located at 360 8 St. S.W.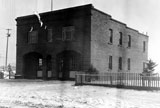 ​​​​​