Wall of Windows featured photographers
The Wall of Windows at the City Hall LRT Station features fantastic photos from Calgarians just like you. We chose some our favourite shots by looking through the fantastic submissions to the YYCPhoto Flickr Group - submit yours today and you could be our next featured photographer.
---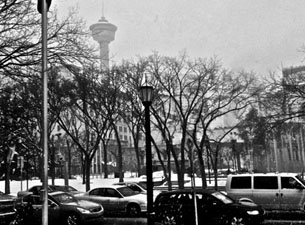 Rob Dickinson

Being a dad to two young boys keeps Rob Dickinson pretty busy, but he likes to take time out of his busy day to enjoy the beautiful scenery in Calgary. "I took this photo as I was arriving to work in the morning. It was a beautiful day out with a light snowfall occurring. The shadowy outline of the Calgary Tower captured my eye. My boys have opened my eyes to a new way of looking at the world and continue to inspire me to improve and evolve."


---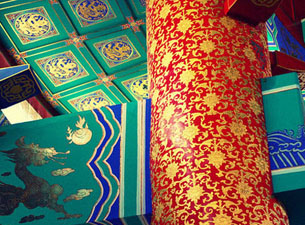 Cecilia Lin

Cecilia Lin was checking out the Mexican Festival at the Chinese Cultural Centre when the vibrant ceiling art caught her eye. "I really liked the colours and patterns," she says. This born-and-raised Calgarian loves all the great photo opportunities throughout the city, but has one special spot that she always goes to: "The ridge on the east side of Fish Creek Park near Mackenzie Lake is a great place to capture the sunset."

---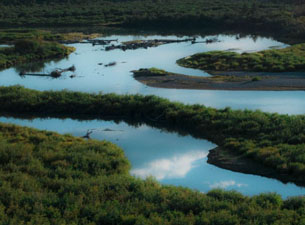 Denitsa Marinova

Denitsa Marinova moved to Calgary from Varna, Bulgaria seven years ago and aside from the diversity and serenity her new home offers, her favourite thing about Calgary is the abundance of natural spaces. "My family and I often go for walks at Glenmore Park after a long day at work. It's peaceful, beautiful and relaxing. Calgary has many beautiful places and Glenmore Park is just one of them, but it's the one that's most special to me because of the memories I have of being here with my friends and family."

---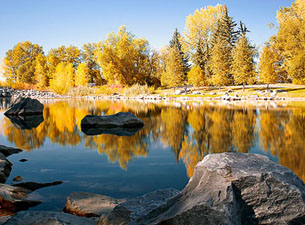 Ferdinand Floresca

It wasn't easy for Ferdinand Floresca to capture this shot of Prince's Island Park; "My camera almost fell into the water because I had to jump from rock to rock just to get the angle I wanted!" Where does he get his determined passion for photography? From his dad, who used to take photos of anything and everything with his film SLR. Photography has helped Ferdinand develop a deep appreciation for Calgary. "I have been living in Calgary for the past 5 years and no plans of leaving this wonderful city. It's clean, beautiful and has the nicest people on earth," he says.

---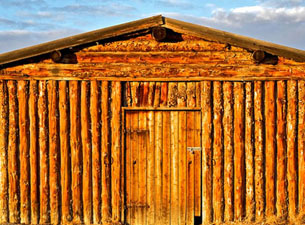 Laura Hussey

Photography is just one of Laura Hussey's many talents – she's also an accomplished actor and singer who is trying to learn more about Calgary, a city she's lived in for less than a year. She often spends her free time wandering through Calgary's communities. "I love taking photos of old shacks, and the last thing I thought I would find on my walk from Downtown to Inglewood was a row of old wooden cabins cast in a beautiful warm light during sunset." Old buildings aren't the only thing that inspires Laura's photography; "I have an enormous respect for life and am blessed with a wonderful husband who accompanies me on this lovely life journey."

---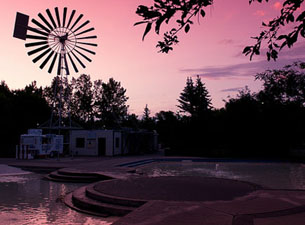 Mark Oliver Ancheta

Father of three Mark Oliver Ancheta usually shoots portrait photography, but was inspired by this country-style windmill located in the heart of the City at Eau Claire Market. "I love the depth, dimension, and simplicity of this image," he says. Besides urban windmills, Mark's kids are a huge inspiration to him, as well as his many new photography friends. Mark moved to Canada six years ago and hasn't considered living anywhere else since. "I love Calgary. It's a city that doesn't look like a city. It's beautiful!"

---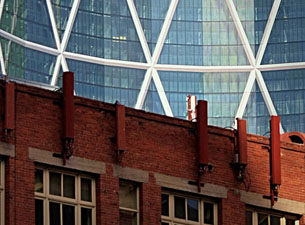 Lambert Rellosa

Travel enthusiast Lambert Rellosa arrived in Canada six years ago on a stopover and ended up making it his home. His love of photography helped him explore the city and these days, it's become a daily practice. "Photography makes everyday life a bit more interesting.," he says. To Lambert, the best thing about Calgary is its just-right size. "Calgary is small enough that anywhere within the city is less than half an hour's drive away but big enough to keep us fascinated with places just waiting to be discovered."

---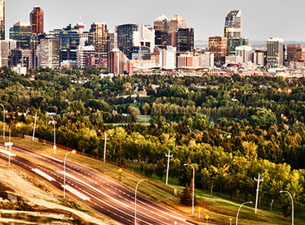 Leslie Ian Ramos

When Leslie Ian Ramos moved to Canada from the Philippines last year, he used his love of photography to communicate with his loved ones back home. "Leaving the country I grew up in was very challenging but at the same time exciting. I wanted to share my new life and new hometown. When my dad was still alive he used to show my siblings and I photos of the places he'd been and this is how I wanted to tell my stories too," he says. Leslie enjoys spending time outdoors with his wife and dog Mexxy, and so far one of his favourite things about Calgary is the weather. "Where I come from, it's humid and 30+ degrees Celsius all the time. I like the cold more because it's not as sweaty. Plus the four seasons add a great perspective to my photography"

​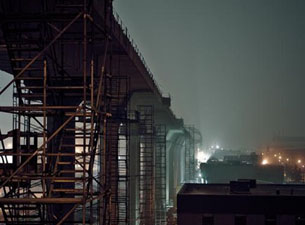 Jeff Shimano

Jeff Shimano is a professional photographer who's lived in Calgary for 10 years, but he's still not used to the sometimes frigid winters. "It was about -40 degrees when I shot the photo – I'm so glad it's warmer now." Winter aside, Jeff admits, "I love Calgary because of the fresh air, the opportunities and the mountains, which are so close!"

---