Hawk Hill Calgary Sentinels – Public Artwork
Project details
Public Art Budget: $1.57M
Commissioned by: Utilities and Environmental Protection
Capital Project: Shepard Wetlands Stormwater Diversion Project
Project Completion: Summer 2013​​​​​​​​​​
Title of Artwork: Hawk Hill Calgary Sentinels
Artist: Beverly Pepper
Site: Ralph Klein Park (12350 84th St. S.E.)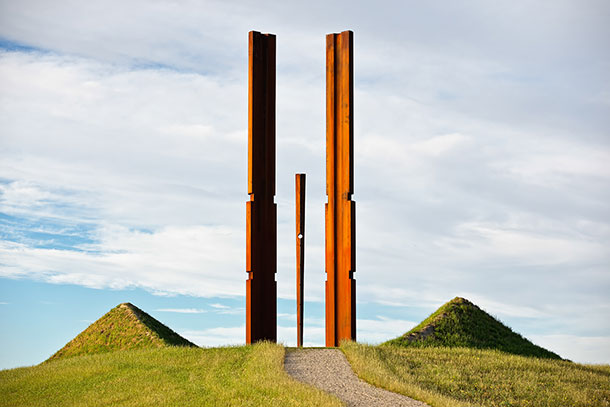 ​​​​​​​​​​​​​
Concept
Drawing on the artist's well-known and unique ability to create works that seemingly exist both in and outside of historic time, Hawk Hill Calgary Sentinels explores issues of time, place and materials. The monoliths and pyramids stand as historical markers, designating the wetlands as an important part of Calgary's legacy.
The Artist
Beverly Pepper's prolific career has spanned over forty years. ​Educated at the Pratt institute and the Art Students League of New York, she has worked in cast iron, bronze, steel, stainless steel, stone and earth. Trained as a commercial artist before shifting to painting and sculpture, she studied in Paris with Fernand Leger and is well-known for her environmental earth constructions such as the Amphisculpture series. She has exhibited internationally, including one-person shows at the Metropolitan Museum of Art, the Brooklyn Museum of Art, Ohio's Columbus Museum of Art, the Albright-Knox Art Gallery in Buffalo, and the San Francisco Museum of Modern Art. Since 1951 she has divided her time between homes and studios in New York and Todi, Italy. Beverly's work can be seen in many public and private art collections around the world, including Vienna, Toronto, Barcelona, Paris, New York, San Francisco and Seattle.
"The monoliths at Ralph Klein Legacy Park are meant to herald the uniqueness of the wetlands. Like my plazas and gardens, and the Ralph Klein Park itself, I believe my work offers a place for reflection and contemplative thought within the context of active urban environments," Pepper says. www.beverlypepper.net
Site
The Ralph Klein Environmental Education Centre and Legacy Park was developed as part of the Shepard Wetlands Stormwater Diversion Project and is located at 68th St. and 114th Ave. in southeast Calgary. The park is comprised of approximately 75 acres, and is designed so that all elements of the built environment (including the facilities, activities and amenities such as public art) are seamlessly integrated into the landscape. The park's design will be inspired by the forms of the Canadian Prairies, with natural systems exposed to illustrate the interconnections between humanity and the environment.
​​​​​​​​​​
Utilities and Environmental Protection Public Art Plan
This public art opportunity is one of eight permanent public art projects outlined in the  Utilities and Environmental Protection Public Art Plan.
The first of its kind in North America, the UEP Public Art Plan is founded on the principle that public art, in collaboration with other disciplines, can create remarkable places that encourage sustainability and stewardship of the environment.
This document, a key component of the overall Master Plan being developed by the Public Art Program, capitalizes on The City's excellent environmental record as steward of the Bow River and as the projects are implemented, will position Calgary as an imaginative and inspired city with regard to public art, infrastructure and environmental stewardship.
​​​​​​​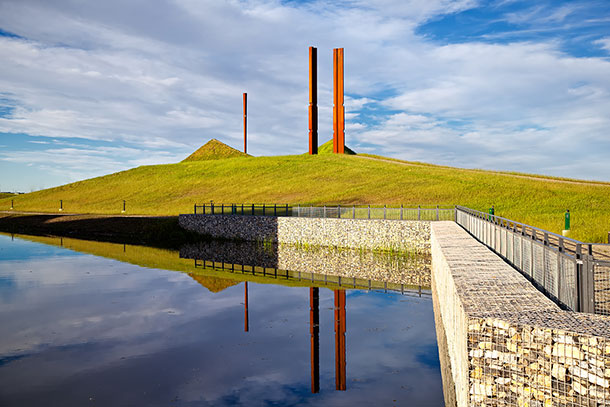 ​​​​ ​