roger that - Public Artwork
Title of Artwork: roger that
Artist: Bill Pechet
Site: Tuscany LRT station located in the median of Crowchild Trail N.W. between Stoney Trail and 12 Mile Coulee Road.
Public Art Budget: $750K
Commissioned by: Transportation Department
Capital Project: Tuscany LRT Station
Project Completion: July 2015
Concept
Canadian artist Bill Pechet has installed an impressive large-scale artwork for the new Tuscany LRT Station in northwest Calgary. Comprised of two, 12 metre-high sculptures, situated on either side of Crowchild Trail, the artwork titled 'roger that' slowly reveals itself as a pair of radiant constellations.
Inspired by physicist/philosopher Roger Penrose, roger that adopts Penrose's brilliant tile geometry to create repeating and random cycles of shapes. Visitors to the artwork might first experience it as irregular and arbitrary but then, out of the apparent disorder and with a slight shift of position, a perfect shape emerges allowing for a moment of greater understanding and clarity.
The artist explains, "Until recently, the neighbourhoods of Tuscany and Rocky Ridge were separated by Crowchild Trail. But now, thanks to the new LRT station, we have a bridge between these communities. roger that celebrates this conjoining by being an artwork which is shared by both sides. Like two neighbours chatting over a fence, the elements of the artwork create a cross-highway dialogue - inviting each other over to experience the artwork from all sides, and through all seasons and time of day."
Yellow by day, and glowing at night, roger that provides a beacon of warmth on cold commuter evenings and an experience of discovery for all who encounter it.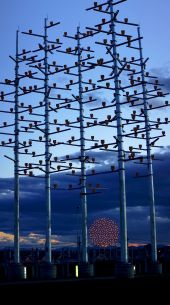 The capital project
With the creation of the new Tuscany LRT station, The City of Calgary's Transportation Department has commissioned this bold, site specific public artwork. This permanent public artwork includes two installations - one on either side of Crowchild Trail, incorporating the art experiece within the communities of Tuscany on one side and Rocky Ridge and Royal Oak on the other.
The artist
Bill Pechet is the lead artist at PECHET Studio, an interdisciplinary practice based in Vancouver, Canada. In all their work, they are committed to developing environments that bridge art and imagination with everyday life, and they are dedicated to the idea that public space must be designed to offer a depth of experiential and playful encounter.
Their work has been represented in both national and international publications and exhibitions, and they have lectured across Canada, the US, and in Japan. The studio has received awards from the Architectural Institute of BC and both the American and Canadian Society of Landscape Architecture. As well, under the banner of Pechet and Robb Art and Architecture, they represented Canada at the 2006 Venice Biennale of Architecture with SweaterLodge. For more, visit pechetstudio.ca.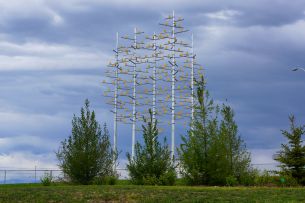 The project
The commission of this public artwork followed The City's standard process of industry best practices, including the initiation of an open international call to artists and tasking a project-specific jury to select the artist from proposals. This work is made possible through the Public Art Policy with completion of the work slated for Summer 2015.
In selecting Bill Pechet as the successful artist, the jury noted his demonstrated excellence of past work, his interest with integrating the community into his conceptual designs, his understanding of transit and its function, and the degree to which his artworks fulfil the goals and intentions of the given project.
An exciting element of this project is the decision to initiate a separate but complementary large-scale community development opportunity that will see another artist work directly with the adjacent communities to support an identified community-based need or priority, while incorporating a related visual art outcome at the Tuscany station.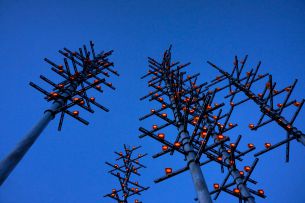 Transportation public art
Public art made possible through Calgary's Transportation Department is making artistic contributions throughout the city that will be enjoyed by pedestrians, cyclists and vehicular traffic for years to come.
Transportation public art addresses such unifying themes as land, water, movement, and travel – connecting attributes of the terrain and location with concepts such as time, movement, and the site's past, present and future.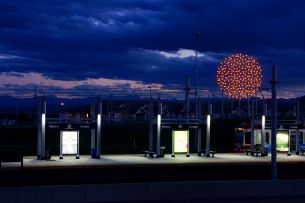 Roger that - view at night
​​​​ ​​ ​​​​​​​​​​​​​​​​​​​