​Location:
​8900 48 Ave. N.W.
​Area:
​30 hectares
​Construction update:

Vehicle access is now available for Bowness Park

​Park hours:
​5 a.m. - 11 p.m. (Dec. 31, 2019 extended hours are 5 a.m. – 1 a.m., Jan. 1, 2020)
​Tea House hours:
​Open and operated by Seasons of Bowness
Visit Seasons of Bowness Facebook page for details and to contact them directly
Boat House/ Skate Shop hours/Train Rides:
Operated by the University of Calgary Outdoor Centre. Visit their page for hours and rental information.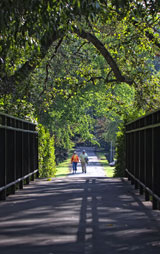 About the park
Bowness Park is located along the Bow River between Stoney Tr. and 85 St. N.W. A shallow lagoon runs along the along the park's southern edge, a favourite spot for paddle boating in the summer and ice skating in the winter. Bowness Park is highly used for picnicking and accessing the Bow River.
History
Bowness Park was built before the First World War by John Hextall, a local land developer. It was built in the town of Bowness as a weekend retreat for nearby Calgarians. The park once had a swimming pool, carousel and orthophonic device on the lagoon.