Bowness Park is located along the Bow River between Stoney Tr. and 85 St. N.W. A shallow lagoon runs along the along the park's southern edge, a favourite spot for paddle boating in the summer and ice skating in the winter. Bowness Park is highly used for picnicking and accessing the Bow River.
Weekend parking is limited
Please note: Parking at Bowness Park is limited.
Park features
NEW ice trail
Now open for the season. A 1.6 km track for skating next to the Bow River.
NEW ice bikes
Adult and child-sized ice bikes are available for rent.
NEW Crokicurl
Crokicurl is a large-scale version of the Crokinole board game combined with curling.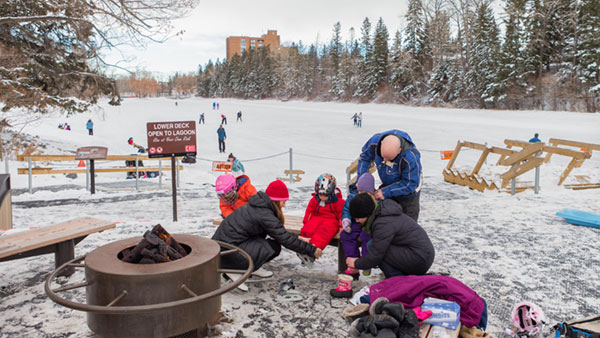 Outdoor skating on the lagoon
Enjoy free outdoor skating on the lagoon in the eastern portion of the park from mid-November to mid-March (weather dependent). Due to COVID-19, the number of skaters allowed at one time may vary. Helmets are strongly encouraged.
Skating hours: 5 a.m. - 11 p.m. daily
Skate rentals: Rentals provided by the University of Calgary Outdoor Centre (rental availability may differ from skating hours)

Hockey sticks and nets, toboggans and sleds are not allowed on the ice.
See COVID guidelines for outdoor skating
History
Bowness Park was built before the First World War by John Hextall, a local land developer. It was built in the town of Bowness as a weekend retreat for nearby Calgarians. The park once had a swimming pool, carousel and orthophonic device on the lagoon.