Calgary's parks and outdoor spaces make an ideal location for a family event or picnic. The City provides 47 reservable picnic site areas, 3,211 picnic tables, 416 BBQ sites and 138 fire pits across Calgary.
Calgary parks with picnic sites
The following parks have picnic sites available for booking:
Several parks also have BBQ pits and stands that are also available for booking.
Alcohol consumption is permitted at some picnic sites.
Interested in making a reservation at a picnic site or BBQ pit?
Before booking a picnic site, please review the picnic site information document to select the perfect site for you and booking information to help you book the site.
Each park and picnic site in Calgary is unique. Call Bookings at 403-268-3800, option 2, to discuss which picnic site meets your needs.
Firewood may be requested, but it is not guaranteed.
Bringing your own BBQ
Personal home BBQs (propane powered only) are permitted in picnic sites but it is highly recommended that you book the site to ensure exclusive use. Advance permission is required to use a BBQ in any other park area. Complete a special event/greenspace application to obtain a permit. Call 403-268-3800, option 2 to book a park or picnic site.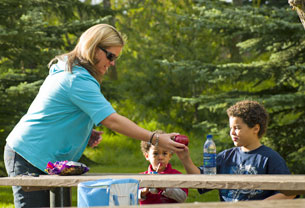 ​​​​​​