History of the Inglewood Bird Sanctuary
How it all began
In 1883, Colonel James Walker settled the land that is now occupied by the Sanctuary. In 1910 the current brick house—named Inglewood—was built, and the surrounding area was named for the most prominent property in the area.
In 1929, Colonel Walker's son Selby applied to the Federal government to have 59 acres on the west side of the Bow River be designated as a Federal Migratory Bird Sanctuary. His request was granted and the Inglewood Bird Sanctuary was born.
When Selby died in 1953, Ed Jefferies acquired the property and leased it to the Alberta Fish & Game Association. In 1970 The City of Calgary purchased the property and has been managing it as a natural reserve ever since.
In 1996, the Nature Centre was built and grassland restoration projects began. The Colonel Walker House is currently both a private residence and office space for Sanctuary volunteers.
The Inglewood Bird Sanctuary now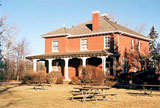 ​​​​​