Calgary's future planning efforts
The City created Council approved guidebooks that standardize and simplify planning processes, land use frameworks and common policies to guide growth and change for developed areas. The three guidebooks are important components of the MDP and they are: New Community Planning Guidebook, Developed Areas Guidebook and the Centre City Guidebook.
Planning for the Future helps understand why the guidebooks plays an important role in the overall planning for our city.
New Community Pl​anning Guidebook
The New Community Planning Guidebook (page 143 of the Municipal Development Plan​ contains policy used with new community area structure plans. It provides the basic building blocks for new development. The new community area structure plans describe how those building blocks are arranged.
Centre City G​uidebook
The Centre City Guidebook is the foundation for local area plans in the Centre City, outlining building blocks and policies that support the unique aspects of a neighbourhood. This framework facilitates and guides change in the Centre City that reflects good planning practice, MDP core objectives and community interests and values.
The guidebook:
Provides a common framework for how the Centre City is planned and developed today and into the future.
Provides general policy to shape a more compact urban form that is well connected and supported by amenities and services to meet daily needs.
Developed Areas Guidebook
The Developed Areas Guidebook establishes policy for local area plan work on developed areas, Main Streets, and within Activity Centres, including Transit Station Areas. It outlines general policy guidance and direction for establishing more context specific policies related to character areas, as well as defines the building blocks to support the amenities, desirable mix of uses and the built form to ensure that neighbourhood are developed to be high quality living and working environments.
The Guidebook for Great Communities​ is a new approach (that will replace the Developed Areas Guidebook) to helping to advance a people-centred approach to community evolution by focusing on where life and activity occurs and planning development to support it. The Guidebook for Great Communities provides an urban form classification system to be applied through the local area planning process and policies to direct planning applications.
The developed areas encompass both the inner city (neighbourhoods developed prior to the 1950s) and the established areas (neighbourhoods built out between the 1950s and 1990s).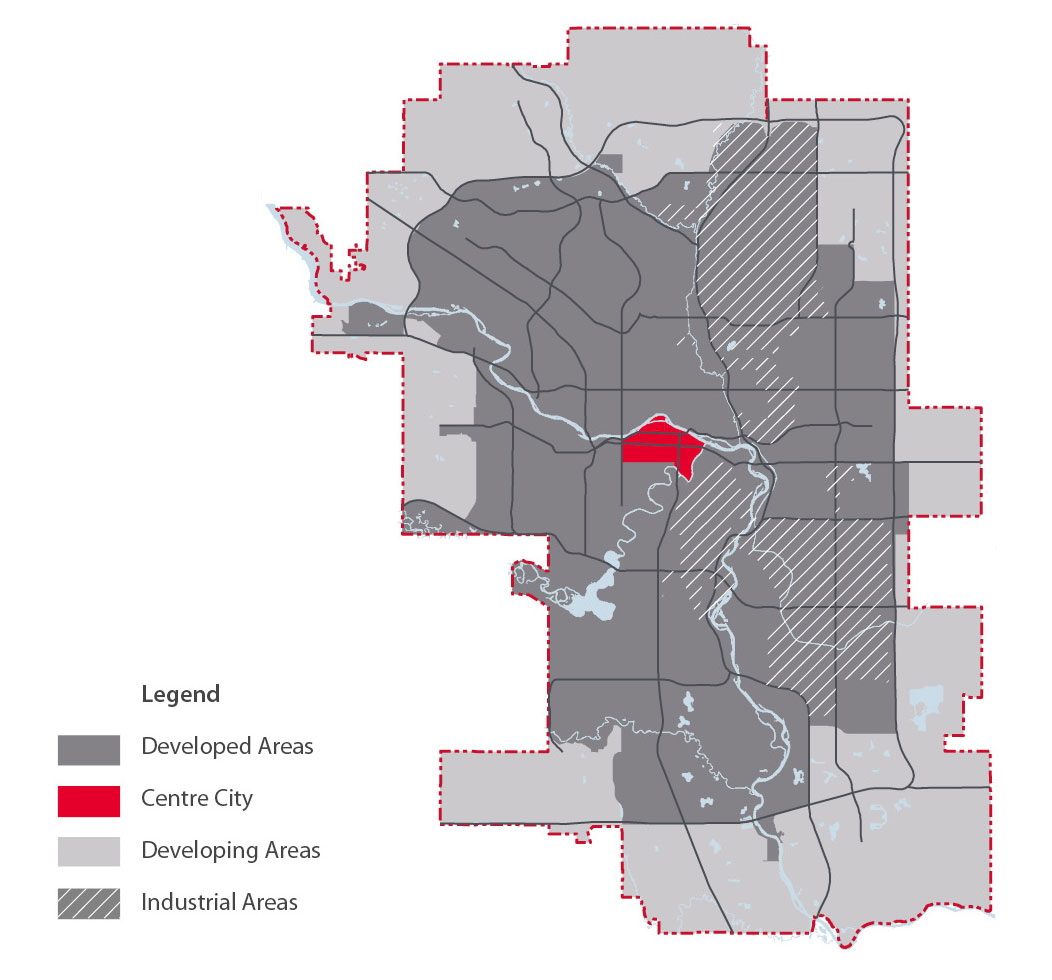 The Developed Areas Guidebook is a tool that helps to create a local area plan, and provides consistent guidance for development and redevelopment in the Developed Areas that helps to achieve building great neighbourhoods.
The Guidebook is intended to be read in combination with a local area plan, and only applies when a local area plan states that it applies. The Developed Areas Guidebook applies only to the following plans:
Anderson Station Area Redevelopment Plan
International Avenue Area Redevelopment Plan
Montgomery – Bowness Road NW Main Street Area
Bridgeland – 1 Avenue NE Main Street Area
Killarney, Glengarry, Glendale – 37 Street SW Main Street Area
Killarney, Glengarry, Shaganappi – 17 Avenue SW Main Street Area
Bowness –Bowness Road NW Main Street Area
Rundle Station Master Plan - suggested
​​​​​​​​​​​​​​​​​​​​​
​​​​​​​​​