How to dispose of lawnmowers and trimmers
Take scrap metal to a private metal recycler. Some private companies may buy scrap metal, charge a fee or accept items for free.
Find options at The Yellow Pages under Metal Recycling or contact these local metal recyclers:
You can also take scrap metal to any City landfill Throw 'n' Go for recycling. Landfill charges will apply.
This includes:
Lawnmowers (electric or gas)
Hedge trimmers
Weed wackers or string trimmers
Edgers
Special instructions:
Drain all oils and fuels before bringing in for disposal.
Landfill locations listed below: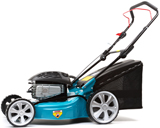 ​​​​​