Tracking the Trail - Public Artwork
The project
The capital project which provided the funding was the construction of the Marquis of Lorne Trail S.E./Bow River Bridge Project which increased the roadway from two lanes to four lanes over the Bow River. The artist was chosen through a limited/invitational call using the Public Art Program Artist Roster.
Title of Artwork: Tracking the Trail
Artist: Roger Gaudreau
Location: Highway 22X and Marquis de Lorne Trail
Public Art Budget: $195K
Commissioned by: Transportation Infrastructure
Project Completion: October 2007
Tracking the Trail is integrated into the roadway bridge over the Bow River at Highway 22X and Marquis de Lorne Trail in southeast Calgary. The artwork is located on four piers under the bridge, along the pedestrian pathways near Fish Creek Park.

Detail of "Tracking the Trail"
Concept
Tracking the Trail is a sculpture consisting of four components - long panels in low relief, each referring to a different length of nearby trail. Each of the four panels are approximately 15 metres (48 feet) long and one metre (four feet) high.
The panels are "sliced" into a multitude of distinct sections containing either polished round stone, metallic grid patterns, or different colours of granite sheets with embedded footprint motifs. The sculpture is created using the cloisonné technique, with stone and granite parts fixed inside an aluminum framing. Footprints were sandblasted into the stone.
Connection to the site
During artist Roger Gaudreau's research for this public art project, he explored the grounds near the Bow River Bridge. The artist noticed a variety of footprints along the trails, including bear, deer and smaller animals and integrated these images into his artwork.
Gaudreau was also interested in the colour and rounded shapes of the river rocks along the Bow River near the bridge and was inspired to represent these textures in Tracking the Trail.
The artist
Canadian artist Roger Gaudreau has over two decades of public art experience, including
having installed twenty sculptures in different public space all over Quebec. He recently worked on two major commissions for post-secondary institutions and ventured into the
international arena, completing a public art piece in Taiwan.
He places great emphasis on creating works that "create an image of direct relevance to place activity, provides a symbolic impetus for the renewal of the environment...and that responds and enhances the site."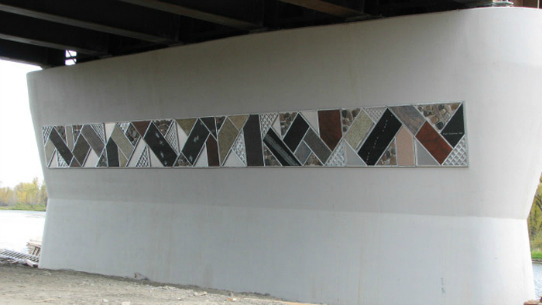 ​​​​ ​