61st Chinook Greenway Public Art
61 Avenue S.W. between Centre Street and Macleod Trail is considered one of the busiest pedestrian corridors outside of the downtown core and currently supports pedestrian traffic beyond its designed capabilities. The project was approved in 2016 and was given a budget of $146,000. Its goals were to create an attractive, walkable and complete urban corridor, with a stronger connection between Chinook LRT Station and Chinook Centre. The project was completed in the spring of 2017.
Banners and utility box wraps
Concept
The plant imagery in the art pieces reflect the plants found inside the mall and offer stakeholders, pedestrians and drivers something unexpected as they navigate through the grey, lineal space. Black colour palettes and white high contrast patterns offer a chic alternative to mirror the area's dedication to fashion and style.
Artist
Leslie Bell is a Calgary-based abstract painter and experimental filmmaker. Her studio practice is motivated by media experimentation, methodical process and a fascination with the infinite number of ways that forms can be assembled into composition.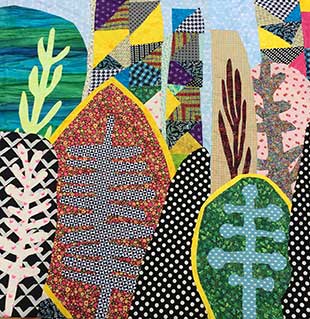 Bike racks and mural
Concepts
The bike rack designs speak to a different course of action – going in a different direction. By changing your lifestyle, you can change your community and your world. By choosing to cycle rather than drive, you can improve your health and your environment. This artwork promotes cycling and the use of Calgary's bike paths, while representing the history of transportation.
The mural explores the movements, activities and energies that animate this corridor between Chinook Centre and Chinook LRT Station. The east wall on 1A Street S.W. imagines a trip on the CTrain, while the north wall on 61st Avenue S.W. conjures the experience of visiting the shopping area. The mural represents both the trip and the destination, but also invites viewers to experience the art exactly where they are.
Artist
Calgary-born Paul Reimer designed the bike racks to reflect elements of his life as a blacksmith and his love of family and community involvement. He likes to facilitate positive changes in the way that people relate to their community, and each other, through his art.
Muralist Dan Bergeron is a visual artist whose work examines, re-imagines and exists in the public landscape. This variety reflects Dan's interest in using a range of public materials and infrastructures to engage in a conversation about the history, current uses and social meaning of our public spaces.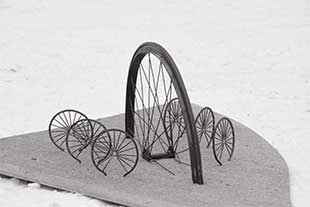 ​​​​ ​​