Chinook Arc - Public Artwork
Project details
Public Art Budget: $370K
Commissioned by: The City of Calgary Parks
Capital Project: Barb Scott Park
Project Completion: June 2014
Title of Artwork: Chinook Arc
Artist: Joe O'Connell and Blessing Hancock (Creative Machines – Technical Consultant)
Site: Barb Scott Park (12th Ave. and Ninth St. S.W.)
​​​​​​
Concept
The artwork is an interactive, illuminated sculpture that emits a soft, internal glow. The concept reflects our impressions of Beltline as a well defined, confident and vibrant community. The shape draws inspiration from the historic Beltline Streetcar loop that once encircled the neighbourhood, as well as the Chinook arch phenomenon that periodically blankets the sky. These two identifying boundaries inspired the crisp edges and rounded curves seen in the work.
The Project
The selection panel (five Calgarians including a community representative, three people from the local arts community and one Parks staff member) appreciated the sleek and modern look of the piece, and looked forward to its illuminated presence, especially when driving down 12th avenue in the dark winter months. They enjoyed the interactive nature of the piece and felt it provided an appealing element of local inspiration. The panellists were impressed by the artists' willingness to engage the community and believed they have the experience necessary to develop a meaningful participation opportunity.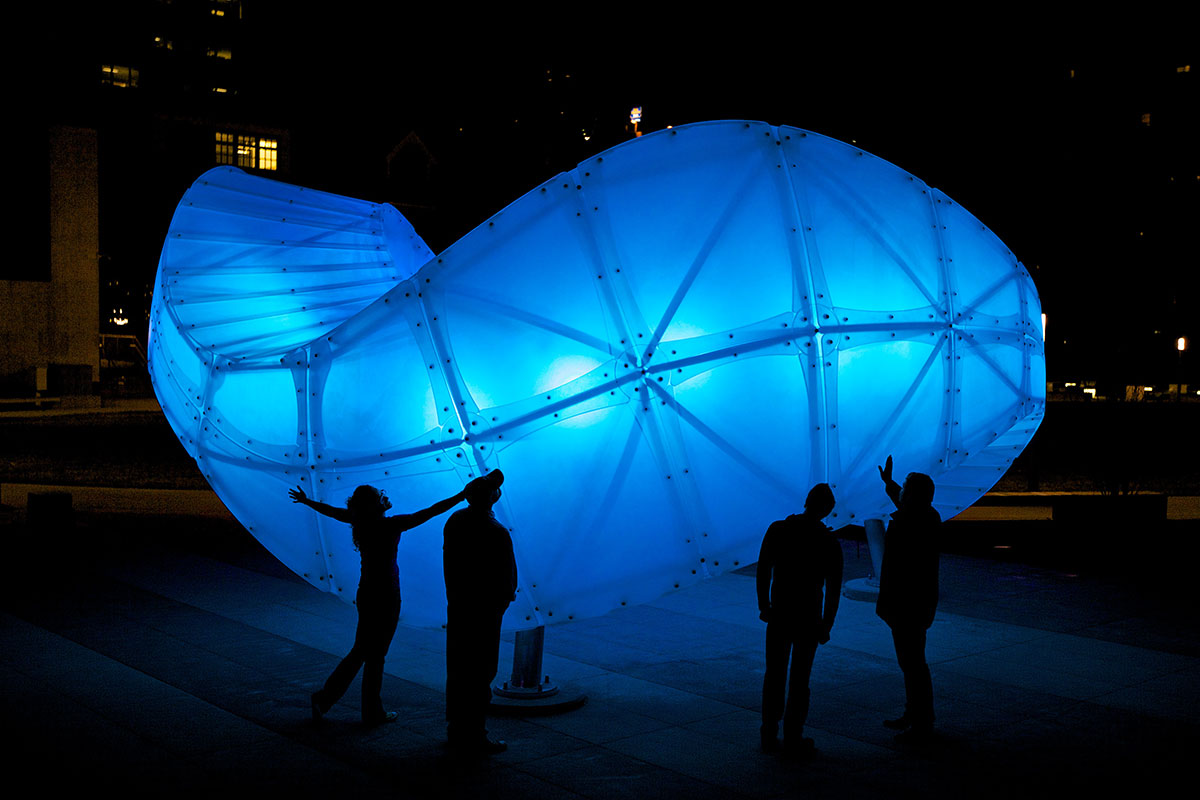 ​​​​​​​​
Community Engagement
As part of this project, the artists were asked to incorporate Community Cultural Development (CCD) and involve the community in a way that would broaden and enhance the positive social impact of the project. This became an exciting and creative collaboration with local artists and musicians that was presented as part of the official Barb Scott Park unveiling event on Friday, June 13, 2014.
The Artists
Creative Machines is the unique group of imaginative thinkers, based in Tucson, AZ, that fabricated Chinook Arc based on Joe and Blessing's conceptual design. At the heart of all their work is the creation of interactive objects and environments and they are renowned for the ability to meld inventive approaches with the highest quality work.
Joe, a technologist with an interest in living systems, and Blessing, a sculptor with an interest in machines, aim to give people new experiences and inspiration in their daily encounters with the world. Interactivity lies at the heart of their sculptures and they like to leave room for people to bring their own meaning to pieces in significant ways. Their goal is to find new ways to live with art – ways in which art solves problems, enriches the human experience and creates an atmosphere of participation, curiosity, and connection to community. They strive to make art that is iconic from a distance yet nuanced up close and have found that this type of work sustains engagement and encourages community interaction.
For more, including examples of their past work, visit www.creativemachines.com.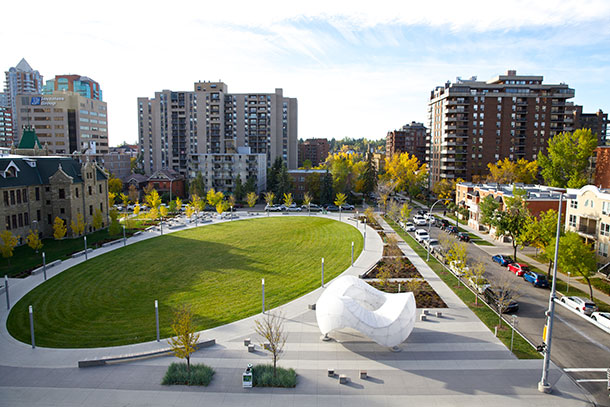 ​​​ ​