Artist-initiated pilot project: Trailing
About the project
The canopy above is a mosaic of 9 hexagons. These shapes can be reconfigured to suit the space they occupy.
Each hexagon weighs about 90lbs, and the total weight of the mosaic is 810lbs. 
There are 1458 fibre optic cables and lights.
The colour reflects a green light that shows a state of balance between earthy, aqua, and sci-fi.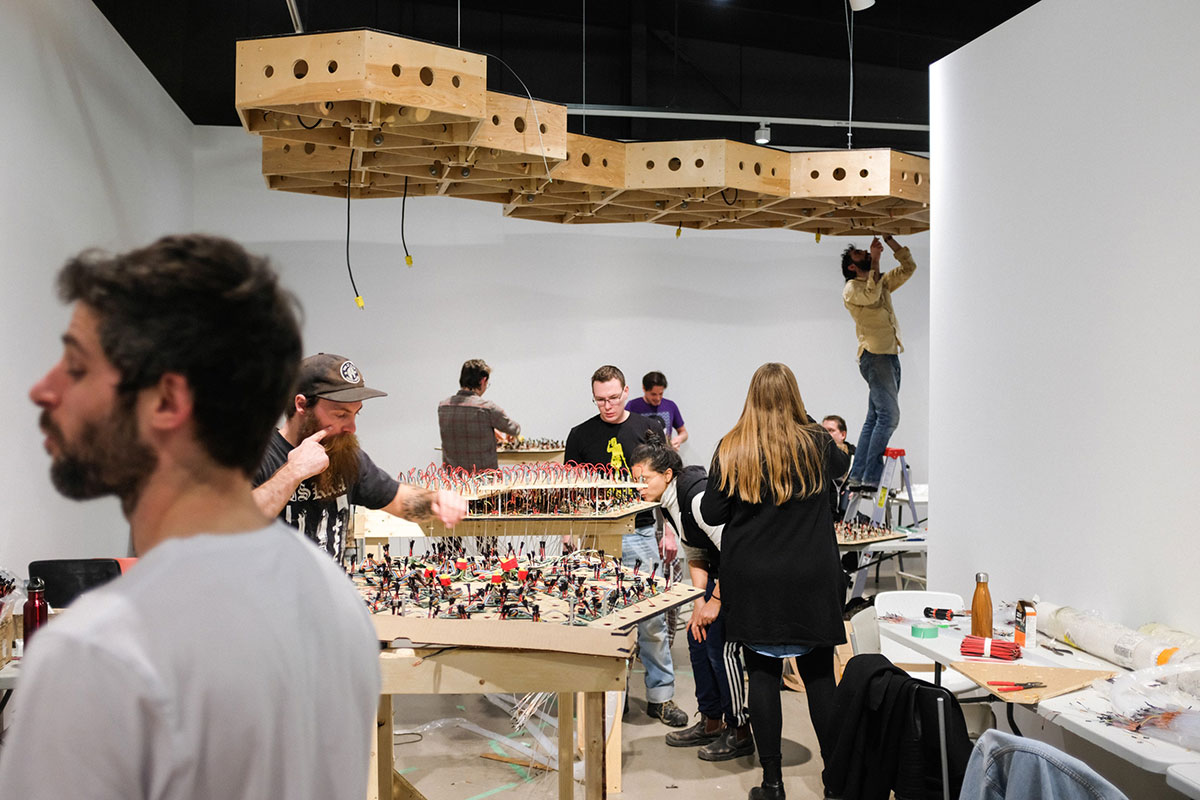 Artist biographies
Alia Shahab and Michel Gignac first collaborated in 2010 when they met at the Alberta College of Art and Design. They share an interest in creating art that encourages participation, and they often use electronics and new media to deepen the potential for an immersive and interactive experience. In 2015 they re-united to create their first large-scale collaborative artwork called Ghost Carwash at Wreck City Collective's "Demo Tape" in Calgary. They value collaboration with other artists, and formed a snow-carving team with Eric Heitmann, creating sculptures in Whitehorse, Thunder Bay and Yellowknife. 
Alia Shahab
Alia Shahab is a visual artist working in new media, sculpture, and installation arts. She uses interaction, play, repetition, exaggeration, and absurdity as ways to explore re-connection with other humans, the natural world and her own identity. Since graduating from the Alberta University of Arts, Alia has created media installations for festivals and exhibitions in Canada and abroad. More recently, she has started to explore performance through mask and puppetry. Alia's creative practice encourages community participation and collaboration, and she invests much of her creative energy developing youth and community art projects. 
She is currently an artist in residence at the International Avenue of Arts and Culture in Calgary.
Michel Gignac
Michel Gignac works with everything from scavenged toilet paper rolls to coded interactive electronics. His work explores our relationship to the natural world, the human condition and his own identity through interaction and surrealist absurdity. These interests have taken the form of gallery installations, snow carvings, public art, and set design for theatre and film. Since graduating from the Alberta University of Arts, he has exhibited nationally and internationally. When he is not making his own art in his pallet studio, he can often be found developing art workshops for youth and adults.