Fire Station 1 Public Art Project
Fire Station 1 is located at 209 4 Ave SE. The Calgary Fire Department has redeveloped the park on top of Fire Station 1. The addition of two-dimensional public art to the redeveloped industrial theme site softens and enhances the park and appeals to park users.
The concept
There are twelve light pole banners located within the park, each displaying a graphic representing a month and season of the year. The designs are based on the season representations collected during engagement with the community. An additional pole at the +15 entryway is dedicated to the Calgary Fire Department.
The artist chose to use the theme of 'four seasons' throughout the park in a variety of applications based on a number of considerations; such as use of the park, feel of the park, stakeholder considerations, project goals and patterns and repetitions in the elements of the park. The artist felt that from many vantage points, the built environment of the downtown core does not readily give indication to the seasonal change and that through the permanent nature of glass and concrete the passage of time is obscured. This project completed in 2018, with a public art budget of $4,750.
The artist
Sergey ​Ryutin was selected from the Painted City Roster and his concept was approved by a project-specific public art selection panel consisting of three arts professionals, three community representatives, and a Calgary Fire Department representative. He worked with the local community and with the project team and key stakeholders to develop the artwork.​​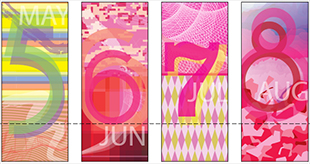 Proposed banners for the Fire Station 1 Park​