Opening Event – Feb 4, 2023
---
Join the artists and curator for an opening event on February 4, 2023 from noon to 3 p.m. to experience storytelling, activities, dancing, music and art for the whole family. 
Learn about the artworks on display and speak with the artists who created them.
Listen to child-oriented teachings that focus on Blackfoot words and the importance of language in keeping traditions alive and strong.
Watch Hoop Dance demonstrations and try it out for yourself.
Hear a live piano performance.
Take a guided nature walk through the Inglewood Bird Sanctuary and learn about the variety of birds, migration and the importance of protecting this inner-city riparian environment.
Enjoy light refreshments from Baker's Bannock.
Event schedule:

12 p.m. – Blackfoot storytelling and Hoop Dancing performed by Elder Shirley Hill
12:30 p.m. – Guided nature walk with Calgary Parks education staff 
1 p.m. – Blackfoot storytelling and Hoop Dancing performed by Elder Shirley Hill
1:30 p.m. – Musical performance by Sonny-Ray Day Rider
2 p.m. – Guided nature walk with Calgary Parks education staff 
---
Current exhibition: Winter – A Time for Stories
---
Jan. 16, 2023 – April 14, 2023
The Winter exhibition of The Land is Home project at the Inglewood Bird Sanctuary Nature Centre features 2D, 3D and sound artworks by Shirley Hill, Amy Hill and Sonny-Ray Day Rider. It is collectively titled A Time for Stories.
Shirley Hill, Siksika First Nation
(Anatsipi'kssaakii – Pretty Sound Bird Woman) Shirley is a mother and grandmother, an indigenous designer, artist and dance teacher. She shares cultural teachings – Blackfoot history (Siksikaitsitapi – Our Way of Life) with many students. Shirley has been dancing Fancy Shawl for forty + years. Shirley loves to inspire and encourage young people to be proud of who they are; by showing compassion, caring and kindness. 
---
Amy Hill, Siksika First Nation
Amy Hill (See-Pia booťh-coom Night Caller) is a Siksika artist. She was born in Calgary and grew up dancing powwow. She is a traditional artist and looks to her moss bags and other creations as a form of healing. Amy hopes that others may appreciate her work and see the beauty of Siksika culture. 
Amy is exhibiting one of her cradle board and moss bag sets. Cradle boards and moss bags are used by Indigenous people to carry babies on their backs and keep them warm. 
---
Sonny-Ray Day Rider, Kainai First Nation
Sonny-Ray Day Rider (B.A., Music) is a Blackfoot composer, pianist, from the Kainai Blood Tribe. Sonny-Ray has a broad musical palate working with many genres. Sonny-Ray is pursuing advanced studies in music composition at the University of Lethbridge. He shows great promise in the field, having accumulated a large breadth of significant creative projects as an emerging Kainai (Blackfoot) artist in an impressively short time span. He also currently has a seat on the Indigenous Advisory Circle to the Library and Archives Canada and is past faculty alumni to the Banff Centre for Arts and Creativity.
Artist statement
Electro-acoustic - The Breath | The Stomach | The Mother | Water (life)

These electroacoustic works explore the conception of the universe, primordial earth, and the emergence of life. It's a mini conceptual EP of sorts and meant to be listened to as a collective.
Instrumental - Our Blood Mother, Elementerra

This piece is about our connection to the Earth (the first mother) and the source of life and Tongue (language). There is also the use of the word Blood in the title of the music, which I feel invokes a lot of invocative imagery – Our Blood is what connects us all. Also, the word Blood in the title is alluding to my Blackfoot cultural background. I am from the Kainai/Blood Tribe which is one of the 4 tribes that make up the Blackfoot Confederacy. I also like the word Blood as it is a powerful signifier to myself and has the codes for many magical imageries I hold dear to my heart.

My creative endeavors are focused on the rematriation of narratives and oral history. I adopt a feminine linguistical practice of naming my songs. I like to provide them with Spirit/deity names that personify/anthropomorphize our human emotions and our abstract relationships with natural phenomena. Elementerra, is a combination of the words Elemental and Terra (Roman Greek Goddess name for the Earth). We are all connected by the Blood and Tongue birthed from the womb of the first mother, Elementerra.
October 13, 2022 - January 15, 2023
Gordon Wesley, Stoney Nakoda First Nation
Gordon Wesley is a proud Nakoda Stoney artist from the Bighorn Reserve. As a child he loved to be outdoors and monitor the animals that inhabit his local geography. He became curious about them and enjoyed their natural beauty.
Living a quiet life in the mountains, Gordon is devoted to his craft. He expertly captures the spirit of nature and passionately translates its essence to canvas. 
July 11 – September 29, 2022
Hali Heavy Shield, Kainai First Nation
Hali Heavy Shield is a multidisciplinary artist, educator, and member of the Blood Tribe (Kainai) of southern Alberta. Hali's work is influenced by experiences in her home community, including Blackfoot storytelling, land-based teachings, and womxn as sources of strength and goodness. She is a recipient of the YWCA's Women of Distinction Award and is a co-founding member of the Kainai Public Library, the first public library on a First Nation reserve in Alberta. Her work includes public art at the Lethbridge's Westside Firehall #5 and YQL airport, and Calgary's Saddletowne Public Library. Artist exhibits include the Art Gallery of Alberta 2020 Biennial BorderLine, Calgary's C-Space, +15 Windows Gallery, and a poetry publication at the Southern Alberta Art Gallery. Hali is currently a PhD candidate researching visual art and storytelling at the University of Lethbridge.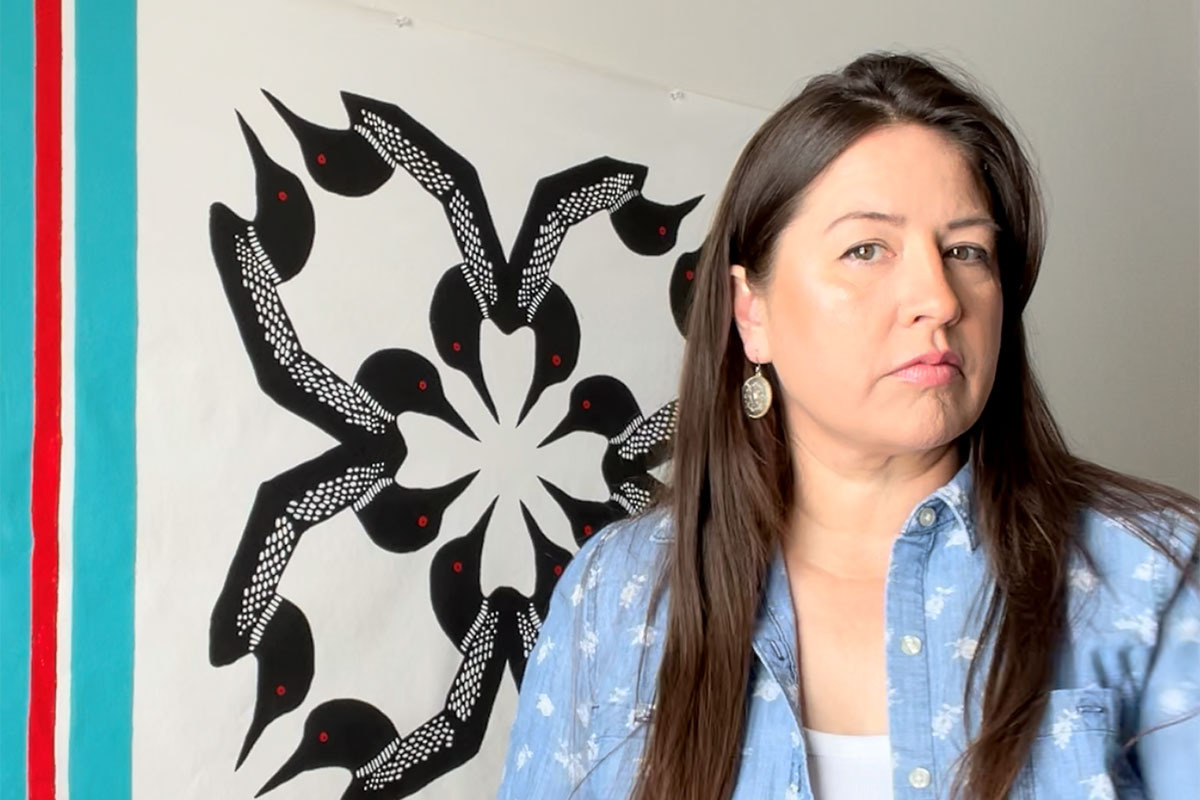 Artist statement
"These works reference the iconic buffalo/bison that are slowly being reintroduced to the Blood reserve, Waterton, and Banff areas (Treaty 7 Territory).

 

The buffalo were not only a food source for Blackfoot people, but also depended upon for hides, bone, and sinew that womxn prepared for both regalia and ceremony.

 

Traditional colours are used that show the beautiful and familiar landscapes of the southwest prairies. Further, symbolism that relate to Siksikaitsitapi are also embedded in the artwork to communicate the interrelatedness of land, art, and Indigenous lifeways".
---
Zoe Buckskin, Treaty 7, Blood Reserve
Oki, my name is Zoe Buckskin and I am a 24 year old Aboriginal Artist from the Treaty 7, Blood Reserve. I am currently living in Lac La Biche where I recently completed my diploma for Artisan Entrepreneur Program at the Portage College. My artwork consists of my relationship with the land, organic shapes, and the artifactual-like artwork. I prefer to use traditional patterns, colors, material and techniques influenced by Blackfoot artifacts. I am a skilled artist and I make multiple different forms of traditional and modern artwork including painting, sewing, quill work and more.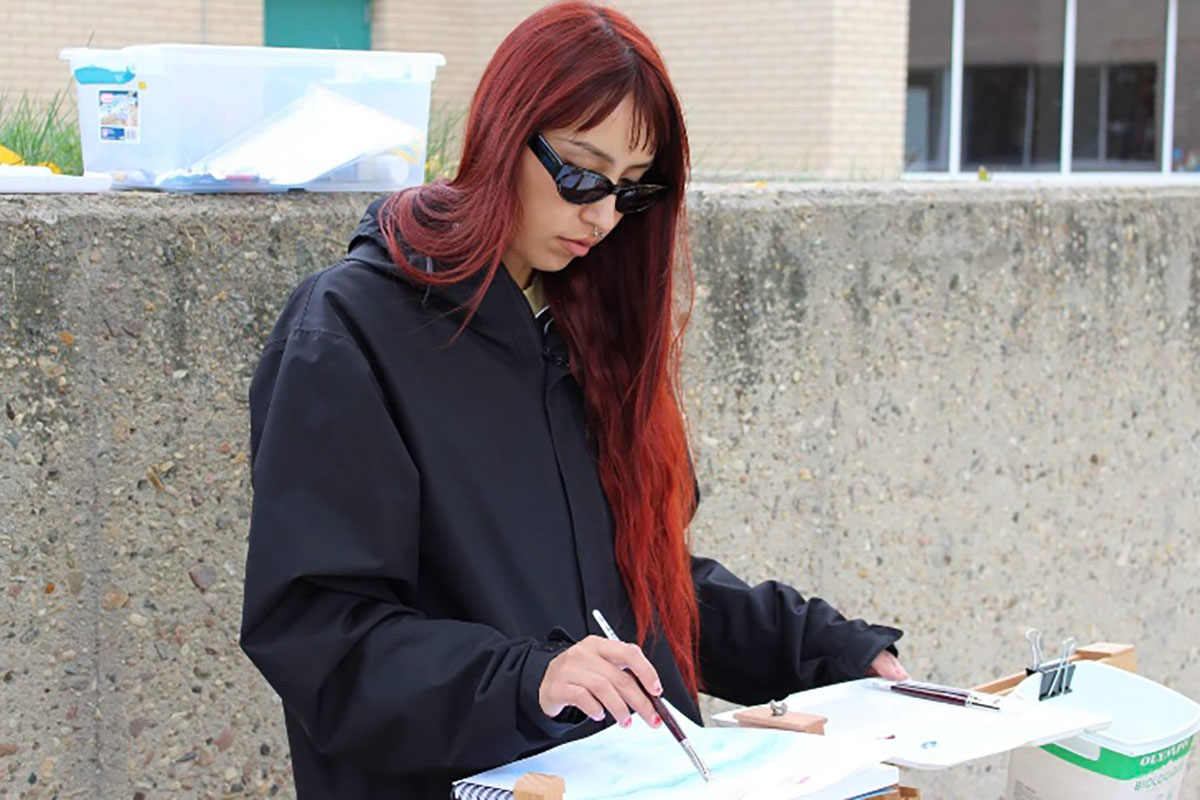 Artist statement
Views - Acrylic on Canvas (24" x 36"), Mar. 9, 2019

 

"The Rocky Mountains of Southern Alberta are the views from the Blood Tribe reserve reminding me of home. The acrylic painting reflects the mountain like patterns along with the traditional colors used in Blackfoot ceremonies. Representing my connection to both spirituality and the land."

 

Divine Feminine - Watercolor medium (11" x 14"), Feb. 4, 2022

 

"This piece represents the healing and revitalization of the divine feminine within society and our collective experiences. Through the evolution of the past year and the ease that covid has allowed for us to slow down and heal inward our feminine energies that each of us carries."

 

Home - Welded Scrap metal sculpture (4.8' x 3'), 2020

 

"The sculpture uses organic mountain-like shapes, tipis, moon and sun, inspired by the Sundance Ceremony practiced on the Blood Tribe reserve. The physical aspects of the sculpture reflected on both the top and bottom of the sculpture represents the duality of my personal life experiences. Images, patterns and designs depict my relationship with the land and my home seen in southern Alberta."

 
---
Kelsey Twoyoungmen, Stoney Nakoda First Nations
Henry Heavyshield, Kainai First Nation
Henry Heavyshield is a Blackfoot (Kainai) writer currently living in northern Alberta.
He completed his undergraduate degree (B.A. English/ Indigenous Literatures) at the University of Lethbridge, and he attended graduate studies at The University of British Columbia.
His work has appeared in Joyland, C Magazine, Kimiwan Zine as well as in an anthology of Indigenous writing with Annick Press. When he isn't reading, writing, or tending to guinea pigs you can usually catch him on his bike or skateboard. He would like to thank the generosity and support of his family. Kitsikakommim (I love you).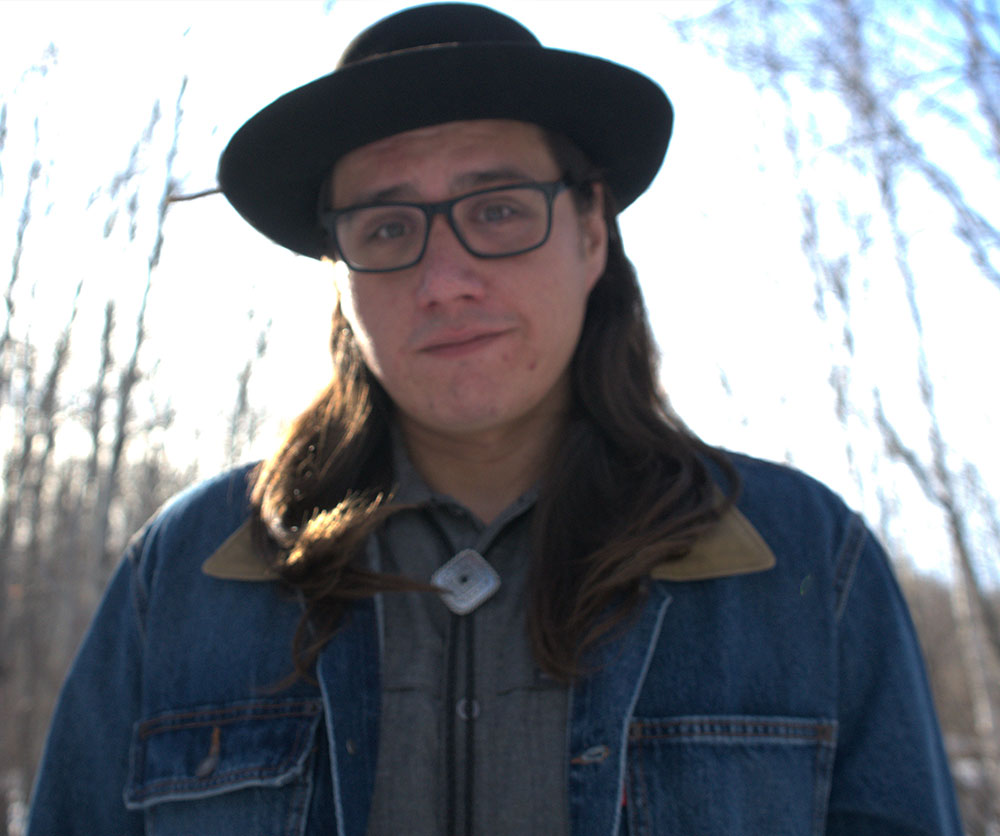 Artist statement
"In Pablo Neruda's Ode to the Dictionary, the poet writes 'I am of the earth and with words I sing.' I have taken this line as an inspiration or jump-off point for the poems in this selection. Passerine, titled after the order of songbirds, is both a means of honouring the animals that call Inglewood Bird Sanctuary home, as well as an exploration of the connections between song and place/land.

 

While some of the poems and their imagery are explicitly about birds, Spring Thaw and Flight for instance, the guiding theme linking these poems is the land as a source of voice or as a source of song. My work, in this selection and beyond, explores the connections between stories and the place(s) they are born from.

 

I believe that anywhere we go we will find its narratives are a feature of the landscape. The poems included in this selection use song to celebrate family and love, such as N or Houses Made of Pollen; they are songs of mourning and longing, such as For John or Flight; they are also protest songs against our treatment of the environment or colonialism's short-term memory, as in Spring Thaw or Before the Colonel. Passerine is my small attempt to map the geography of a place through voice and through song."
---
Tara Manyfingers, Kainai First Nation
Tara Manyfingers was born in Cardston but grew up in Calgary.
In 2014 she began a post-secondary journey that began in Edmonton's MacEwan University Theater Production program, which allowed her part-time work in concert and opera. From 2016 to 2019 she gained a BFA at the University of Alberta, with a major in print media production.
In 2020 she began the MFA program here at the University of Calgary and her art production ranges from sculpture, beadwork, wardrobe, and regalia construction to print media processes, such as the silkscreen compositions shown here today.
Currently, Tara's work revolves around water and wildlife preservation and advocates for sustainable ecologically balanced practices. She remains a valued employee within the IATSE union in Alberta.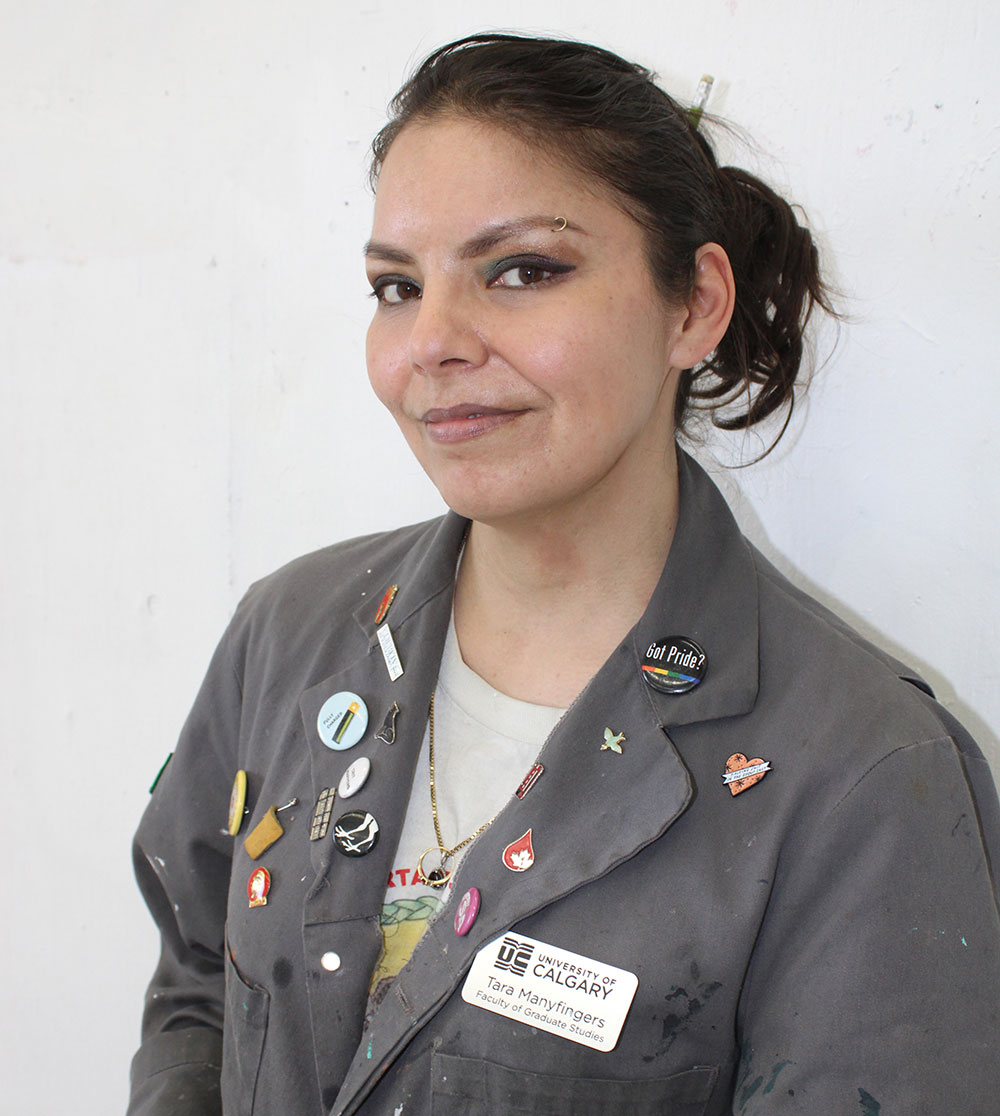 "My name is Tara Manyfingers, born in Cardston and I grew up in Calgary. I am currently a multimedia artist and Masters of Fine Arts student at the University of Calgary. This work was completed in 2018 from a collection of photos. It is summertime and I am perched over my mother's kitchen sink, ever so slowly sipping my coffee, trying to be very still. It is six o-clock in the morning before anyone in the household has woken up. I am here in the hopes of catching a brief glimpse of magnificence that the hummingbird effortlessly exudes.
 

Silkscreen requires photo negative exposures onto the screen, and CMYK is a division of the color spectrum into cyan, magenta, yellow and black. First I used distortion photoshop techniques to make the hummingbirds all look more painterly. Then, just like the inside of certain color printers, I split the images into four layers each. The first two images, I blocked out the entire skyline, in order to swipe my own color mixed sunset. What you see here is a collection of the most successful prints of this 2018 series."