Bow Passage Overlook - Public Artwork
Title of Artwork: Bow Passage Overlook
Artist: Lorna Jordan
Site: Pearce Estate Park (1440 17A St. S.E.)
Public Art Budget: $3.12M
Commissioned by: Utilities and Environmental Protection
Project Completion: October 2014
Concept
The piece creates a physical and conceptual link between the city, the environment and the river. A series of terraces and a stunning grotto-like seating area capture views of the Bow River and surrounding landscapes. Pathways allow people to experience the park and to connect with river access points and the trail system.
The project, an environmental artwork in and of itself, is textured, multi-layered and experiential. It appeals to the senses and offers seasonal interest. It is iconic from afar and engaging from within, and references the past through the use of native species and materials that have shaped the landscape and economy of the area. Most importantly, it captures the power and majesty of the Bow River watershed as well as the forces that act upon it.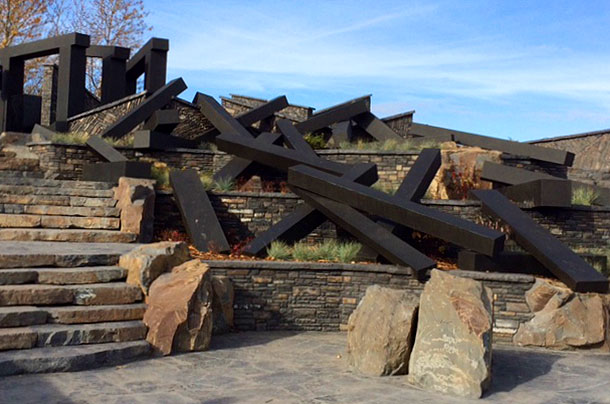 The project
Lorna Jordan led the creative design that supports the vision, mission and objectives of the Harvie Passage Reconstruction project, celebrates the Bow River's natural abundance, enhances connectivity with adjacent amenities and improves the area along the river's two banks.
In addition to the artwork, this project is the impetus for a series of community events and workshops that reference, explore and celebrate Inglewood's relationship to the river.
The project is a partnership between the Inglewood Community Association, Parks Foundation Calgary, City of Calgary Parks, Public Art Program, Utilities & Environmental Protection Department, Alberta Environment and Alberta Infrastructure.
Commissioning Unit: Department of Utilities and Environmental Protection
Capital Project: One of eight permanent public art projects outlined in the Utilities and Environmental Protection Public Art Plan.
The site was chosen based on the priorities laid out in Utilities and Environmental Protection's (UEP) Public Art plan. As per the plan, all capital development public art dollars are pooled and then implemented based on the objectives laid out in the plan.
The artist
In her own words, Lorna Jordan's work, "often uses the framework of the garden to reinterpret infrastructure as both process and place. Currently, our civic and industrial infrastructure tends to be coldly conceived while our natural infrastructure is degraded. By integrating process and art, I want to create public places where the distinctions between nature, art, and technology are blurred and our experience of life-sustaining systems is heightened."
Lorna is a frequent guest speaker and lecturer, has served as the Seattle Arts Commissioner, Vice-Chair and Public Art Committee Chair, and was the 1998 recipient of the Northwest Institute for Architecture and Urban Studies in Italy, Rome Fellowship.