TransitStory - Public Art
TransitStory is on the move
---
TransitStory has playfully reflected the ebb and flow of CTrain commuters since it was installed downtown in 2012. However, it has also endured city life for more than 10 years. In August 2023, TransitStory was removed from the 7 Avenue and Centre Street CTrain platform for conservation.
Once conservation work is complete, the art piece will be relocated to the 45 Street CTrain station located at 17 Avenue and 45 Street S.W.  
The City has been working with artist Jill Anholt to reimagine the artwork in its new location and to ensure it aligns with how she originally intended for Calgarians to experience it.
Keeping to the artist's original vision, the artwork will be intriguing for both pedestrians and riders on a passing train. From one perspective the figures appear yellow and orange, but approach from the opposite direction and you'll experience the steel commuters as shades of blue.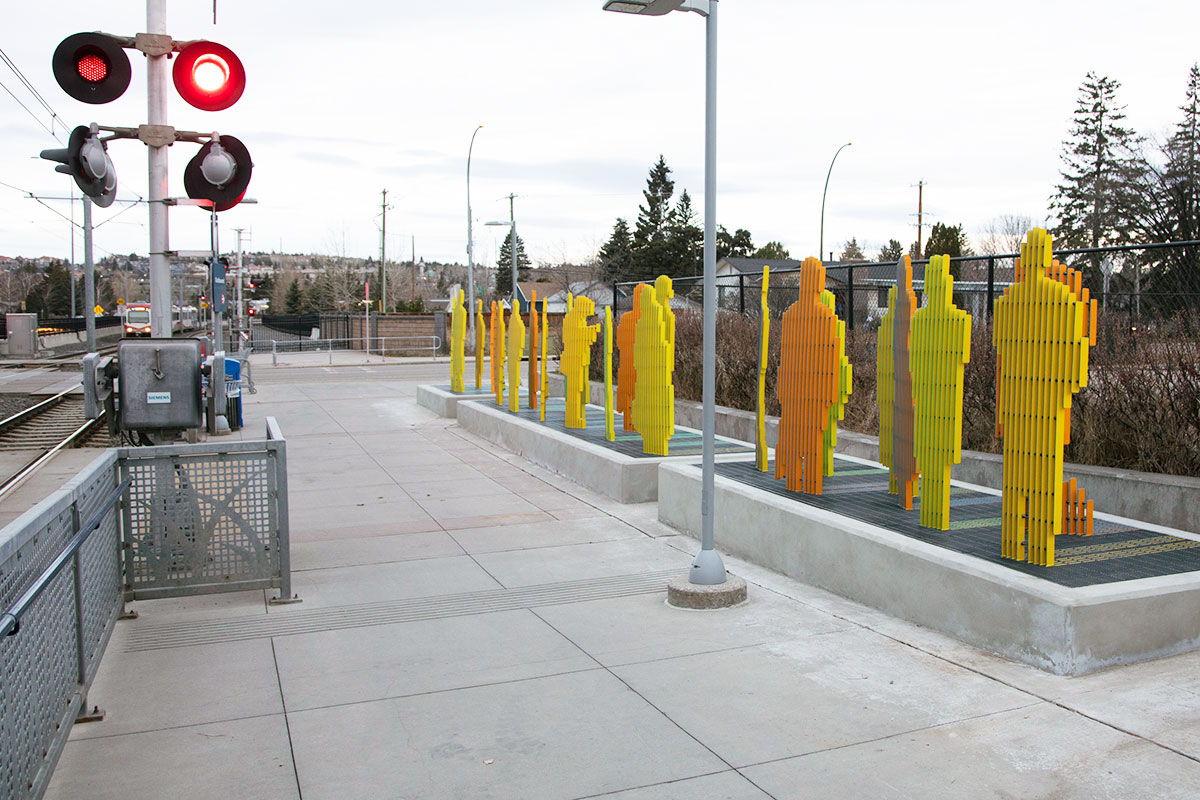 Much needed conservation work including structural repairs, refinishing and repainting the artwork will take place in the coming months. Like buildings and roads, artworks need help to prevent and repair damage from weather, aging materials, vandalism and graffiti.
It's important to care for Calgary's public art collection so it can continue to be safely enjoyed by future generations. Learn more about public art conservation and how we preserve and maintain over 1,300 works worth more than $25 million. 
TransitStory showcases 30 sculptures of people fabricated from steel, artfully painted and installed at the transit station.
The crowd appears to share a brief moment of time and space with the other commuters embarking and disembarking at the station. In this way, the work seeks to capture the fleeting trace of human presence within public space. 
The artwork will be re-installed at the 45 Street CTrain station along the walkway leading up to the platform. TransitStory will form a welcoming and intriguing facade at the station and will become a dynamic and engaging public presence that will also enhance the feeling of belonging for users of the station.
In the artist's words, "The artwork evokes the ephemeral presence and memory of past travellers. Like objects seen obliquely out of the corner of one's eye, the art installation will change from every angle – at once present and absent."​​​​​​​​​​​
Visual artist and designer Jill Anholt is a former Calgarian who has been creating site-specific public art installations since 1997. Her work investigates qualities of time, movement, light and materiality. Jill's intent is to intrigue passers-by, drawing them to look closer at the work and explore connections and relationships embodied in the site. Her artworks encompass many different levels of viewer interaction and accessibility; from the overall formal expression that creates a visual impact at a distance, to the material details and embedded imagery that provide a more intimate experience to viewers close up.
​​​​​​​​​​​
​​​ ​​​​​​