Lake Fraser Gate Pilot project update
​​
Traffic moving through Lake Fraser Gate intersection
The pilot project relating to traffic congestion along Macleod Trail at the Lake Fraser Gate intersection is now over, and we're moving along with the process.
As you know, City of Calgary traffic engineers have piloted an alternate traffic pattern over the last several months, restricting the southbound left turn at Macleod Trail onto Lake Fraser Gate S.E. and the westbound left turn lane during the morning rush hour.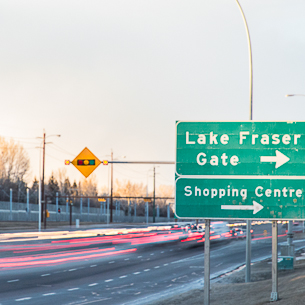 The City has given ample opportunity to provide feedback. Since October, there's been an open house, an online chat, many conversations with me, and of course all of the feedback via 311. As resident or business in Ward 14, I hope you voiced your opinion either way.
Changes were incorporated based on concerns heard from local businesses. First, having the change in effect only during the morning rush hour period, and secondly, bumping up the restriction to end at 8:30 a.m. as opposed to 9 o'clock.
From my perspective, this has been an overwhelming success. Travel times have been improved and traffic delays have been substantially reduced during the morning rush hour. Simply put, traffic is flowing better. I've heard from some folks in my ward that as much as 15 to 20 minutes has been knocked off their commute time in the morning.
Over the course of the pilot between October 2012 and February, nearly 2,400 responses were gathered. Of those responses, 21 only were not in favour of the change.
The City's recommendation will be to implement the pilot permanently.
One of the last steps in this entire process is to put forward the recommendation to the Standing Policy Committee on Transportation and Transit on April 17, 2013. These meetings are held at Old City Hall, and are open to the public. You are welcome to attend and provide your opinion. The committee's recommendation will then go to Council.​​
Categories: Motions and Initiatives