Route 444 - Chaparral Valley & Walden
​​
I am very excited to announce that, starting on March 9, peak hour transit service will be available to Chaparral Valley and Walden for the first time. Route 444 will connect the communities of Chaparral, Chaparral Valley, Walden, and Somerset to shopping, schools, recreation centres, and the CTrain.
I want to thank the Chaparral Community Association, and the residents of Chaparral Valley and Walden for bringing this need to my attention. Without their efforts to lobby Calgary Transit I would not have been able to have moved this forward so quickly. It is a very big step in the development of two wonderful neighbourhoods.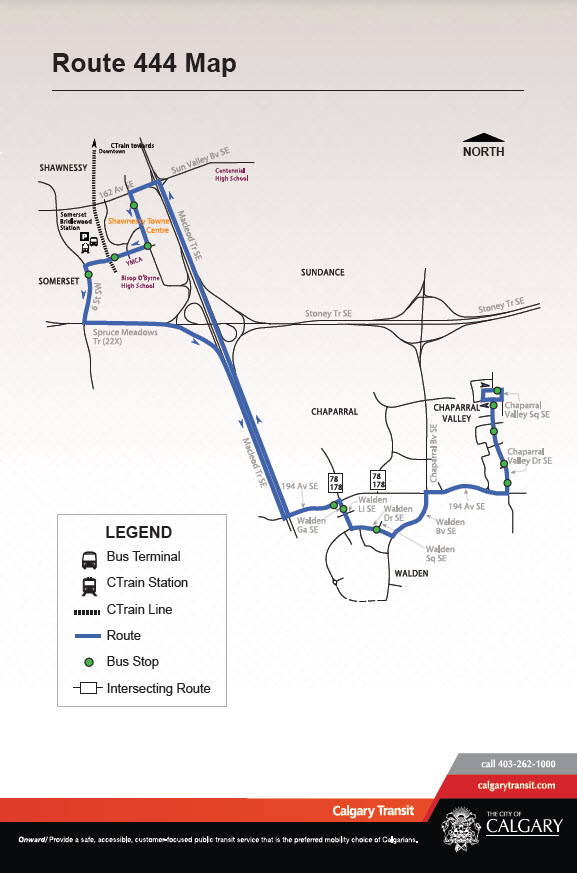 Route details
The route will have approximately 15 stops. It will serve the Somerset - Bridlewood CTrain Station, the Shawnessy Towne Shopping Centre, the YMCA, and Bishop O'Byrne High School. It will operate Monday to Friday every 20 minutes during peak periods from 5:20 a.m. to 8:57 a.m. and 2:40 p.m. to 6:57 p.m.
Moving forward
Route 444 will evolve over time just like the communities it serves. Calgary Transit will monitor the performance of the route on an ongoing basis.
To provide feedback you can phone (403) 262-1000 to reach a Calgary Transit customer service representative or share your thoughts about the route by completing a survey at www.calgarytransit.com/survey. You will also be able to find more information about the route on the Calgary Transit website.
I encourage you to provide your feedback to Calgary Transit so that we can make this the best route possible for everyone, and don't forget that you can contact me​ at the Ward 14 office anytime. Happy commuting Ward 14!​​
Categories: Motions and Initiatives