North and South Crosstown BRT
Establishing the North and South Crosstown BRTs and the 52 ST E BRT, fundamentally changing the nature of Calgary's transit network.
This transformation is from one where you have to go downtown to get anywhere in the city, to one where you can rapidly move around the city.
Ward 9 neighbourhoods will greatly benefit from this significant change as improved network connectivity means a quicker, more direct, and more reliable service overall.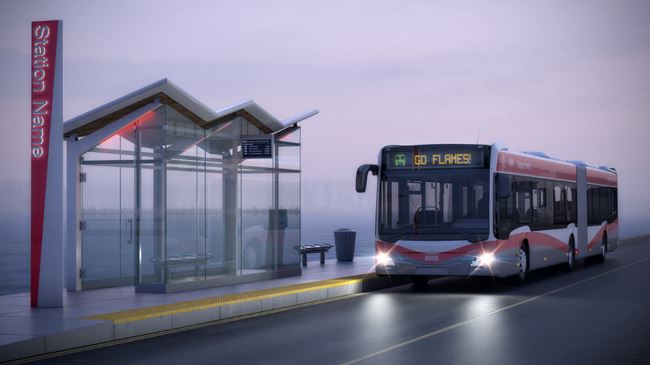 Bus Rapid Transit
Project overview
---
Calgary Transit strives to provide safe, accessible, reliable public transportation. Through various feedback to Calgary Transit, customers have identified reliability and convenience as top priorities for taking transit. The North and South Crosstown BRTs will benefit transit customers by providing a better customer experience and more reliable, direct service.
The Crosstown BRTs is a Council-identified priority in Calgary Transit's strategic plan, RouteAhead. The projects are one of four additions to The City's primary transit network. The four new routes fill important gaps in the existing transit network and provide Calgarians with reliable, direct connections to major destinations. BRT service is an important investment to accommodate Calgary's current and future growth.
The North and South Crosstown BRT will be a limited stop bus service operating in regular traffic lanes with several transit priority measures such as queue jumps and priority signals.
North Cross Town BRT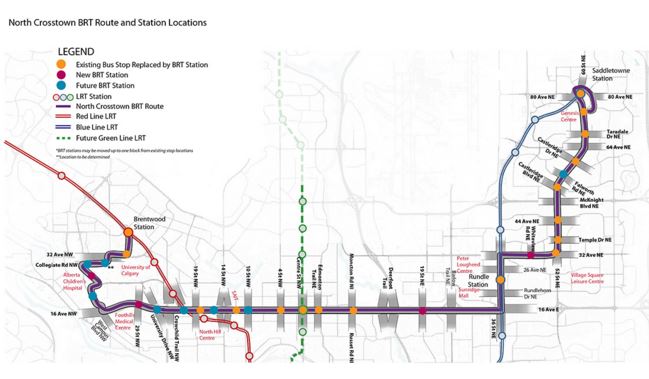 South Cross Town BRT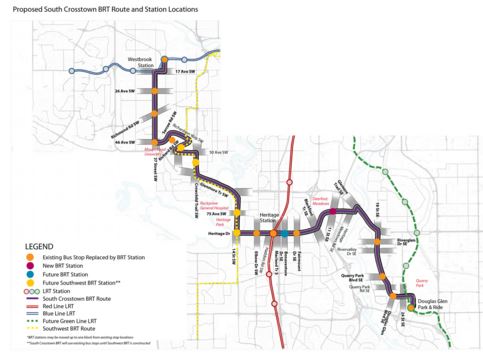 Project Update
---
Construction has begun on BRT stations in southeast and southwest Calgary. In some cases, new BRT stations will replace existing stops. There may be temporary bus stops established in some areas while this work is ongoing; these stops will be marked as closed with a temporary sign indicating the alternate stop location. Please visit calgarytransit.com/service-updates for route and stop changes.
Intermittent sidewalk and lane closures may be required
Signs will be on site for detours and lane closures
Work includes:
Underground utility installations
Concrete pouring for new station platforms
New bus shelter installations
Work is dependent on site and weather conditions.
​​