All City of Calgary parks | Northwest parks | Contact Parks
Riley Park is a beautiful destination park in northwest Calgary within walking distance from the Kensington shopping district. The park contains a cricket pitch, wading pool and the Senator Patrick Burns Memorial Rock Garden.
Location: 800 12 St. N.W.
Area: 9 hectares
Park hours: 5 a.m. - 11 p.m.
Park features
Cricket pitch
Senator Patrick Burns Memorial Rock Gardens
Picnic tables
Playground
Washrooms (seasonal)
Water fountains (seasonal)
Concession (independently operated)
About the park
Riley Park is located directly south of the Southern Alberta Institute of Technology, is home to a Calgary Cricket League.
History
Riley Park was once part of the 146,000 hectare Cochrane Ranch. In 1888, Thomas and Georgina Riley and their family of 10 children homesteaded the land and in 1909, following Thomas' death, their land was left to The City of Calgary.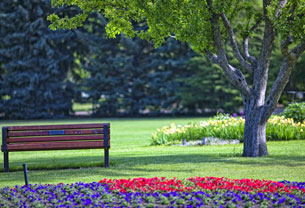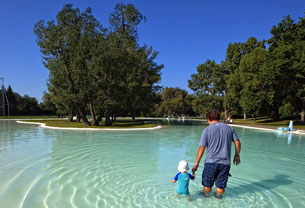 Senator Patrick Burns Memorial Rock Gardens
This beautiful flower and rock garden nestled within the tall trees along the northern hillside of Riley Park is named for Senator Patrick Burns.
Senator Patrick Burns (1856 - 1937) was a well known Alberta rancher, businessman, and politician. He is one of the Big Four who founded the Calgary Stampede.
The gardens were constructed in the 1950s with more than 20,000 pieces of flagstone from the senator's demolished mansion.​​​​​​​​​​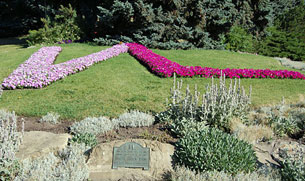 ​​​​​​