Reader Rock Garden Historic Park is one of the city's most unique cultural landscapes and the first Legacy Park to open. Its restoration was honoured with a Calgary Heritage Authority Lion Award in Landscape Preservation, earning official designation as a Provincial Historic Resource. Its restoration was completed in 2006 and earned an official designation as a Provincial Historic Resource. In 2018, the garden was designated as an official national historic site.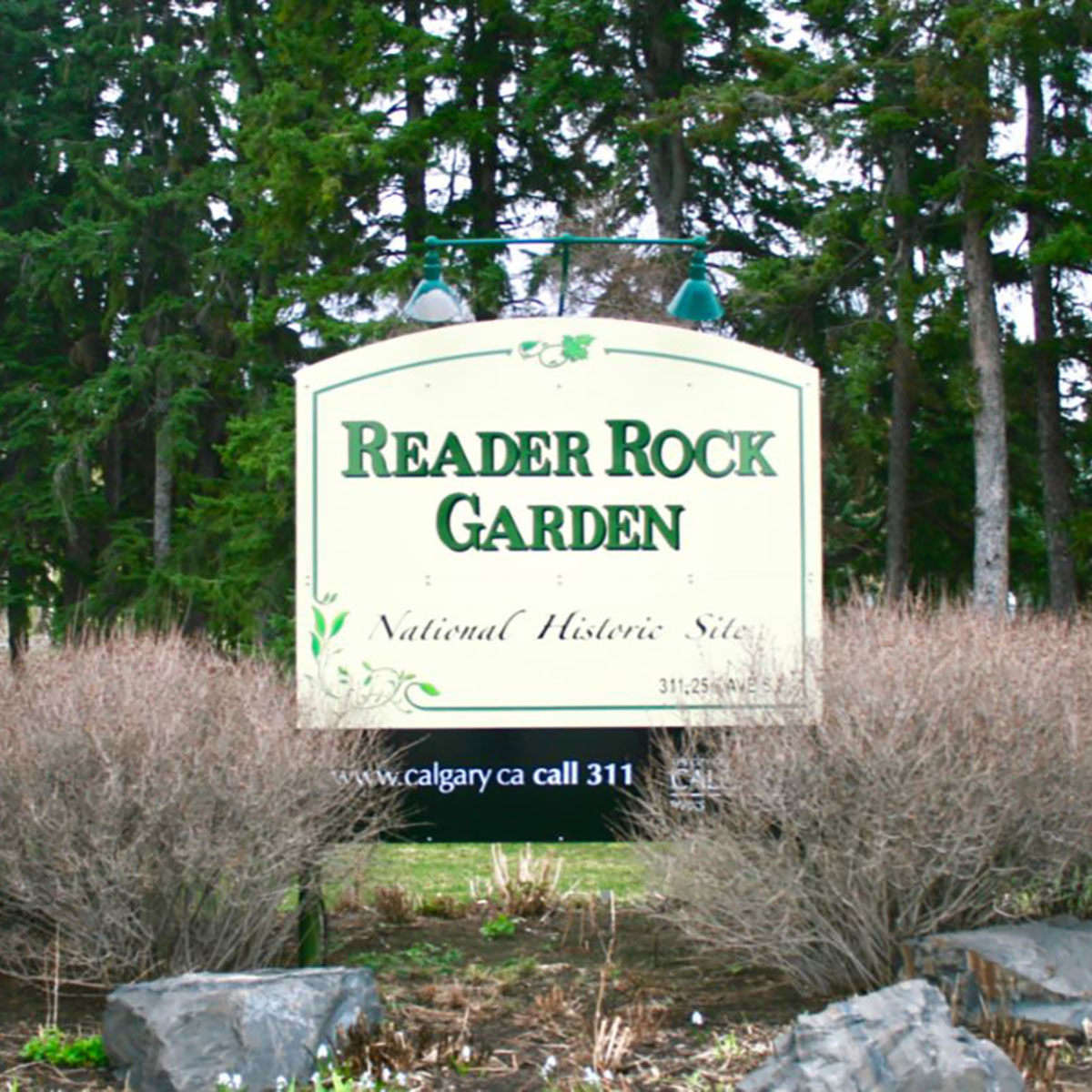 Pub​lic programs

Historical flower/rock garden
Free parking
Transit accessible
Benches
Walkways
Wheelchair access is located east of the house
Park etiquette
Reader Rock Garden is a designated provincial historic site. When visiting the garden, please respect the uniqueness of the plant collection, wildlife and facility by following these simple rules:
It is prohibited to disturb any part of the plant collection including seed collecting, fruit or flower picking or removal of any plants.
Stay on designated trails and grassy areas at all times. This helps to protect the plants.
Garden users must exercise caution at all times due to the sloped and uneven nature of the trails. Please wear appropriate footwear.
Due to the nature of the pathway system, groups must be broken into smaller sizes of 15 people maximum.
Animals in the garden are wild, do not disturb or feed them.
Dogs are not permitted in the garden.
Be considerate of all other visitors to the garden.
Adhering to the rules will ensure the protection of the Garden's valuable plant collection and historical features.
This historic garden is a tribute to one man's passion for plants and beauty. William Roland Reader was the Superintendent for Calgary Parks from 1913 – 1942 who transformed a bare hillside into an internationally-acclaimed garden.
During the turn of the century, it was common for horticulturists to collect alpine plants on their travels and create gardens as living artifacts of their journeys. Reader actively engaged in this practice and for thirty years the Garden trialed over 4000 different plant species, making it one of the few significant gardens in western Canada. Reader used the Garden as a showplace to educate people about the gardening potential of the prairie/foothills region of Alberta, particularly Calgary.
Lovingly rehabilitated according to Reader's original plans, the garden blooms from mid-March to mid-November. The reconstructed Arts and Crafts style house features a café and classroom space for educational programs.​​​​​​​​​​​​​ Visit Friends of Reader Rock Garden Society for more information.
Calgary Parks
There are numerous community and public parks in Calgary to explore.
Contact us
Need additional information on our parks and activities? Want to request maintenance?
​​​​​​​​