All City of Calgary parks | Southwest parks | Contact Parks
Battalion Park is located on the hillside of the Signal Hill community in southwest Calgary whose stone formations have historical significance.
Location: 3001 Signal Hill Dr. S.W.
Area: 93 hectares
Park hours: 5 a.m. - 11 p.m.
Park features
Pathway
Lookout landing
Historical stone formations
About the park
Battalion Park, originally known as Camp Sarcee in 1915, opened on November 3, 1991 and was built to commemorate World War 1. Members of the Calgary, Lethbridge, Central Alberta, and Edmonton battalions hauled 16,000 stones in sacks onto the hill.
The original stones were used to form the numbers 137, 113, 151, and 51 which represent the regiment numbers of the above battalions. Members of the 137 Battalion fought for years to maintain the rocks and have them declared a historic site. The stones were carefully stored and saved by Stewart Green Properties Ltd.​​​​​​​​​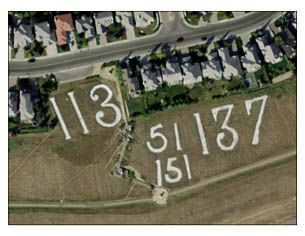 ​​​​​​