Protecting trees during construction and development
A Tree Protection Plan is required when development or construction activities are to occur on within six meters of a public tree. View the Tree Protection Plan Guide or the Tree Protection Plans for Capital Projects Guide to help you step by step in protecting Calgary's trees. In addition to having a Tree Protection Plan, be sure to know the tree requirements for newly constructed homes.
Why do I need a Tree Protection Plan?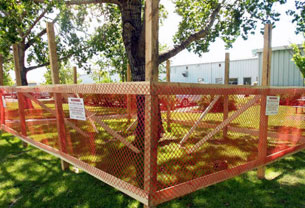 Ninety-nine percent of a tree's roots are found within one metre of the soil surface and processes like moving heavy equipment near trees, changing the soil structure, paving over roots, breaking branches, scraping bark and excavating in the root zone can damage and even kill trees.
Trees injured during construction may show signs of decline as late as 10 years after damage has occurred, so it's important to be proactive when protecting trees.
What is a Tree Protection Plan?
A Tree Protection Plan outlines how construction work is to be accomplished and the steps that will be taken to mitigate damage to trees on City land. A Tree Protection Plan may be a report and/or a drawing. A Tree Protection Plan Agreement must also be submitted with your plan to ensure the proper actions are taken during the development process. For a step by step guide to protecting City trees, view the Tree Protection Plan Guide or Tree Protection Plan Guide for Capital Projects.
The Tree Protection Plan Agreement and Tree Protection Plan must be prepared and submitted by the property owner or by a third party on behalf of the property owner. If you need guidance, you can view an example of a Tree Protection Plan.
Putting together a Tree Protection Plan? You should:
Take inventory and list locations of all trees and shrubs on City land within 6 metres of all property lines of the site under development.
Identify the species and list the diameter at 1.4 metres off the ground, plus the height and canopy width.
Identify whether trees or shrubs are to be moved/removed or protected. Written authorization from Parks Urban Forestry is required.
Identify whether tree pruning is required to provide clearance. Written authorization from Parks Urban Forestry is required.
Identify a Tree Protection Zone in which activities are restricted. Minimally this zone is limited to the City of Calgary Land, 4 metre distance from the trunk and to depth 1.2 metres. The canopy of the tree is to be protected to the drip line.
Locate staging, hoarding and storage areas of construction materials.
Locate the limits of land disturbances, excavation zones, trenching and grade changes, routing of utilities and irrigation systems, sidewalks, driveways, construction access roads, changes to street lighting, fire hydrants and utility boxes.
Identify construction methods and equipment to be used on City of Calgary Lands. (Crossing City Road Right of Way may require a Street Use Permit).
Identify in metres squared the areas where protective fencing will be installed on City Road Right of Way. This information is required to calculate the cost of a Hoarding Permit.
Identify pre and post construction care measures.
Develop a communication plan that provides contact information for a designated individual responsible for ensuring work adheres to the approved Tree Protection Plan. The designated individual will also ensure contracted staff working at the development site is aware of the Tree Protection Bylaws and the Approved Tree Protection Plan.
How to submit your Tree Protection Plan
Once your Tree Protection Plan is prepared, complete the Tree Protection Plan Agreement and attach any related documents with the agreement, or mail the entire package to:
The City of Calgary Parks, Urban Forestry
P.O. Box 2100, Stn M (#75)
Calgary, AB T2P 2M5
Attn: Tree Protection
After the Tree Protection Plan has been approved, a Hoarding Permit and/or Street Use Permit will be required to start construction.
More information
For more information or to inquire about a current protection plan, please call 311 or 403-268-CITY (2489) if calling from outside Calgary or submit an online service request.