Choosing the right contractor is an important step when making renovations to your property. You should be cautious, do your homework and have a high level of trust with the professional you decide to hire.
Contractors requesting pre-payments or progress payment for work must be licensed with the Government of Alberta as a pre-paid contractor. You can verify by contacting the Consumer Contact Centre at 1-877-427-4088 or visit Service Alberta.
Here's five things you can do to protect yourself when picking a contractor, and ensure you're making a sound investment.
5 steps to choosing a contractor
Contractors are required to hold a valid City of Calgary business licence, and The City has the authority to suspend or revoke this licence during a Licence Review Hearing.
Contractors that hold a business licence have met The City's licensing requirements and are permitted to operate their business within Calgary. Without a valid business licence, contractors are not able to obtain necessary construction and trade permits.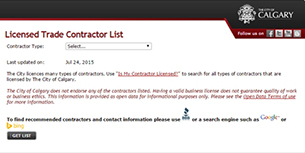 Ask for detailed estimates from many different contractors. When you have decided on a contractor, ask them to provide a comprehensive, written contract that includes both project details and business details.
The contract should include:
Contractor's business license number
Estimated start and completion dates
Full renovation plans
Material and product specifications, including warranty information
Responsibility for building permits and inspections
Work schedule
Price
Payment arrangements
Business liability insurance information
Worker's compensation program information, or if exempt, carries private disability insurance
Ask for a list of past jobs and contact information, and call the contractor's previous clients. Seeing proof of satisfied customers can help to ensure that you are choosing a qualified contractor.
Many homeowners don't take the time to check references. Instead, they make the assumption that a list of references is proof of good work. This is not always true. Homeowners should ask for references about the quality of the contractor's work as well as details about the timeliness, budget, and ease of the renovation process.
If a contractor is not able to or refuses to provide a list of references, you should not hire them for your home renovations.
Contractors should carry liability insurance in case of property damage or injury. Ask for a certificate of insurance as part of your contract.
A builder's lien is a legal notice filed by unpaid suppliers or subcontractors for materials or work on your property. Before making your final payment to the contractor, check for any liens on your home, which is available from the Alberta Land Titles office. If there is a lien, you may not be able to renew your mortgage or sell your home until the lien holder has been paid.
Additional resources
If a fraud occurs, report it to the Calgary Police Service at 403-266-1234.​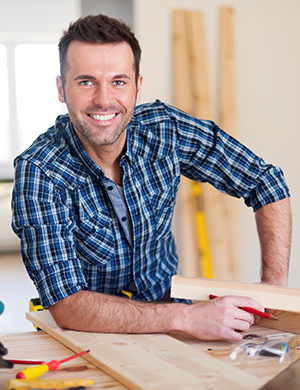 April 18, 2023

Hiring a licensed contractor

Listen to the Development, Business & Building Services team as they walk you through some important considerations when making renovations to your property, best practices for hiring a licensed contractor and how to ensure you have everything in place before you get started.