Overhead electrical services for inner-city homes
​​When you are building an infill home in the inner city, you should be aware of the requirements needed for overhead services like electrical, metering equipment and overhead conductors. Here's an overview of what to look for.
Electrical service
Electrical services that are generally 200 amps and less need to be considered prior to construction. You must check that ENMAX has sufficient infrastructure and capacity in place to provide electrical services to the development. This includes:
The main service switch (panel with breaker or fused switch)
Enmax meter (utility revenue meter)
Meter base (enclosure for utility meter)
Service conductors
Service mast (conduit for service conductors)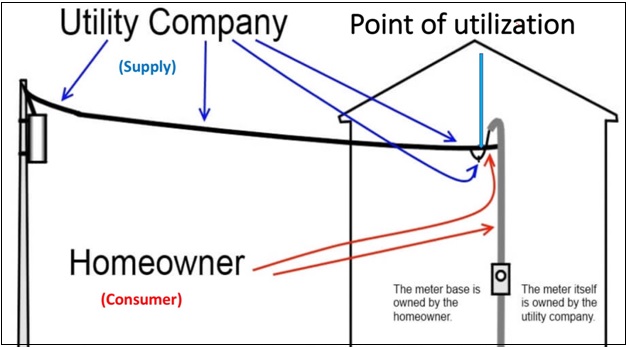 Please contact ENMAX early in the development process to eliminate construction delays. Prior to construction, as the developer or builder of the project, you must confirm the proposed electrical services can be installed.
Please note: When the development permit is circulated to ENMAX for review, they do not check or confirm the proposed electrical service requirements or locations.
Please contact ENMAX at getconnected@enmax.com.
Metering equipment
All metering equipment is required to have a minimum clearance (open area) in front of it that is 1 metre wide by 2.2 m high with a safe and stable area to walk from any property line, fence, adjacent structure or vegetation. Mount the meter enclosure to the garage or home at a height of 1.5 m to 1.8 m to centre from final grade. Do not mount in the path of water from eaves and rain spouts or below sewer and gas equipment.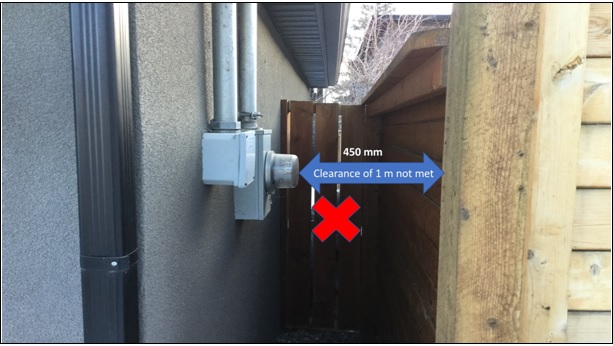 Subdivision of services
Multiple meters are permitted for single family homes with basement suites, backyard and laneway suites, duplexes and row housing. The number of services from one supply cannot exceed six and only one meter may serve each clearly defined area and address. All meters must be located outside, grouped together and identified by address or unit number with a permanent legible label. 
Secondary suites
If you are developing a secondary suite, including a basement suite, backyard suite or laneway house, use the secondary suite electrical load calculation sheet to make sure your current electrical service is adequate. When completed, please submit the form to electrical.inspection@calgary.ca. If it has been determined that the main electrical service must be increased from a 60 amp, 100 amp or 200 amp service, please contact ENMAX at getconnected@enmax.com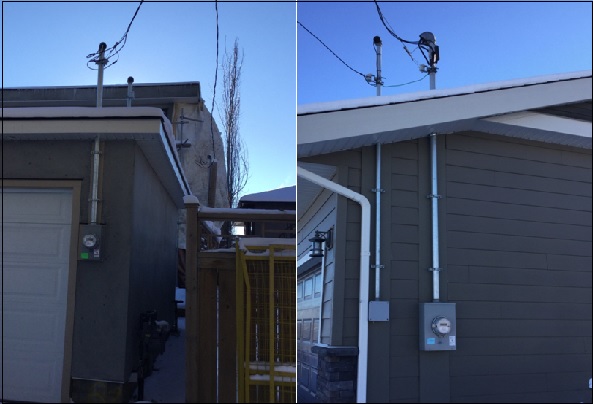 Service conductors
Overhead supply services conductors need to be strongly considered when deciding placement of the home's electrical service. ENMAX should be contacted if there are any concerns, like crossing streets or the location of the source of ENMAX power. Overhead conductors need to have a clearance area from finished grade of at least:
5 m across the ground, accessible to pedestrians only
4 m across residential driveways
5 m across commercial and industrial driveways
5 m across alleys, streets and highways
Supply service conductors should not cross over buildings, except where necessary to make a connection at the point of utilization. Please note: the attachment point cannot exceed 5.5 m. If they must go over buildings, a clearance of at least 2.5 m is required over flat roofs or any portion that could be walked on, like a balcony, and 1 m over peaked roofs or any area that could be reached by a person, like from windows and doors.
Overhead conductors located on the consumer side (after the main switch), such as neutral supported cable by Triplex, are not permitted to be installed over buildings and are required to have a clearance of 4.5 m from the ground between buildings, like from the garage to the house.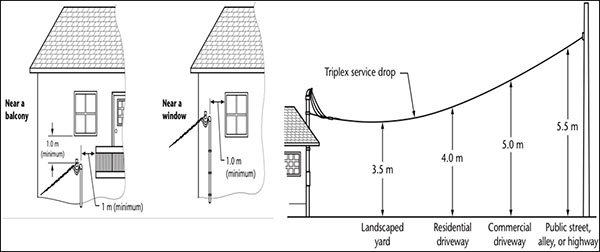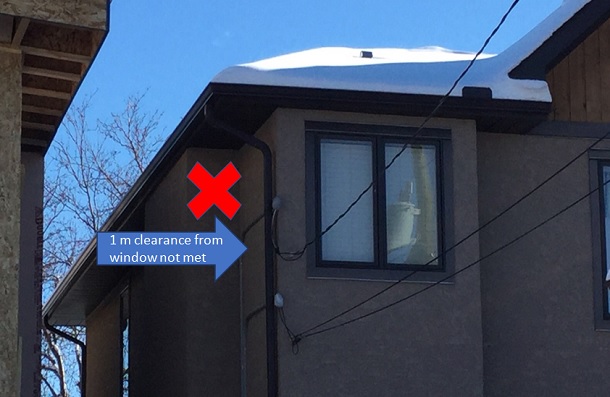 Temporary construction services
Temporary construction services are used for construction only and must be removed after the building is complete. They need to have adequate support, either mounted to a building, pole or a solid wooden post not less than 89 mm by 140 mm (4 m by 6 m). The pole must be set into the earth to a depth of at least 1.2 m and braced as necessary. All the requirements for clearances and mounting heights of permanent services still must be met. These services must not exceed 200 amps, must be protected from the weather and must be lockable to prevent access from unauthorized people.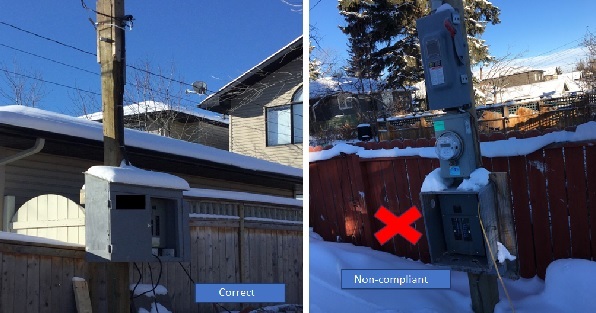 Contact us
Planning Services Centre
Development approvals review team
Find development approvals review team staff to contact about specific applications.