Plumbing and Gas for infill construction
Plumbing and gas infill considerations
A single construction permit covers all plumbing and gas work within the building envelope. Included under this type of permit are:
Gas
Plumbing
Fireplace
Groundwork (additional fee, request inspection any time, including pre-board phase)
Hydronics (additional fee, covers basement and attached garage hydronics only, request inspection any time, including pre-board phase)
Temporary gas (additional fee, covers natural gas only, request inspection any time, including pre-board phase)
Additional permits may be required for work outside the building envelope, including:
Secondary gas line to remote meter, garage, patio, etc.
Hydronics as a primary source of heat
Hydronics for a snowmelt, detached garage, etc.
Secondary suite over a garage
Plumbing and gas inspections include:
Pre-backfill (sanitary and storm): Automatically generated at pre-backfill stage
Pre-board: Request inspection when all rough-in work is completed
Pre-possession: Request inspection when construction is done and project is ready for occupancy
Sanitary and storm services
When servicing the property with sanitary and storm services, there are two options. The first is to use a qualified Quick Trench Contractor. This type of contractor has entered into an agreement with The City that allows them to complete installation of the services with an offsite review of pictures. The second is a site inspection by a City safety codes officer. Both methods ensure quality and code compliance of installations.
Projects that qualify for Quick Trench method are new single and semi-detached residential homes. All other types of projects will require a separate plumbing or site servicing permit and required inspections.
Quick Trench Program
If the excavation contractor is a qualified Quick Trench contractor, they can perform the excavation and installation of water, sewer and storm piping to the home as per the conditions of the program.
The installation must meet specific installation requirements outlined by The City.
The Plumbing Quick Trench Program is a privilege which The City retains the right to revoke at any time.
Plumbing safety codes officers will perform intermittent audit inspections if a trench is open to verify that the installation meets The City requirements.
If the installation fails, a red sticker will be placed on the piping or an inspection notice will be left in the permit pouch, and the trench must not be backfilled.
Key points to know about the Quick Trench program are:
All trenches must be photographed before backfilling.
Photographs must be converted to PDF format and uploaded directly by the builder to the Residential ePermit site under File > Inspection > Photos.
Photos must be available at the time of inspection. They must have:

Site location
Pipe size and material
Backfill material
Pipe location markings on the sidewalk, complete with marker boards (if applicable)
Key points for all trench types
Piping and connecting materials must ​be listed in the National Plumbing Code as acceptable for use in the application for a service trench.
Water service piping shall be and minimum 1 in (25 mm) in size and certified for potable water.
All installations must abide by the grade slip issued by The City.
If the grade slip indicates a size larger than the minimum 1 in (25 mm), the size indicated by the grade slip must be installed.
For changes in direction for a sewer or storm service, a maximum of two 22.5 degree fittings or one 45 degree fitting may be used on a pipe from the foundation to the street without the installation of an approved cleanout.
Grades must be a minimum one in 50 for 3 in and one in 100 for 4 in and deflections of not more than five degrees every 3 m.
Trench depth and earth cover must comply with the City requirement for frost protection of 8.5 ft for water services and 4.5 ft for sanitary sewer services.
Piping must be bedded in hard durable particles free from clay lumps, cementation, organic material, frozen material and other materials that may cause harm or damage no larger than 0.75 in (20 mm). Bedding in sand is not acceptable. The material must be a minimum of 4 in (100 mm) under the piping with 12 in (300 mm) of cover over the piping and extend to 12 in (300 mm) on each side.
When completing the backfill with native soil, rocks or frozen lumps are not permitted.
Sanitary and storm inspections are automatically generated at the pre-backfill stage.
Natural gas construction heat
Natural gas construction heat is a service provided by ATCO Energy. If you have paid the extra temporary gas permit fee for the inspection associated with the single construction permit and selected an energy retailer for billing, you can have a natural gas meter installed as soon as the foundation is backfilled. Wood masts must be installed as per ATCO's specifications below. All hoses and heaters require a site inspection by a City safety codes officer.
Current information on registered retailers in Alberta is on the Alberta government website at ucahelps.alberta.ca​​.
Construction heat mast specification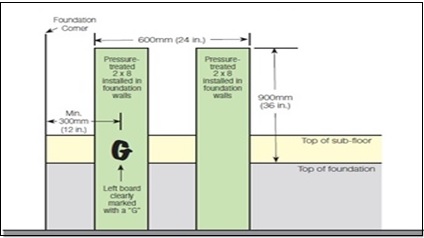 Typical construction heat meter set
Temporary propane heat
Temporary propane heat requires a separate temporary gas permit obtained by a qualified gas fitter. Propane is not covered by the temporary gas permit associated with the single construction permit. All temporary propane heat that uses any hoses or heaters requires a permit and inspections by a City safety codes officer.
Subdivision of services
When an inner-city lot is subdivided into two or more lots, each lot will require separate services, as indicated by the grade slip issued by The City.
Common challenges
Side yard venting clearance for gas-fired appliances: A minimum side yard of 1.2 m from the building foundation to the property line is required before any vent terminations from a gas-fired appliance are allowed to terminate in the side yard.
Permits: Secondary gas lines to garages, patios, etc. require separate permits.
Irrigation: All irrigation lines require the installation of a double check valve assembly. This applies to lines installed for future use.
Please contact our plumbing and gas technical assistance centre staff at Plumbing&Gas.TAC@calgary.ca or contact 311 with questions or concerns.
Contact us
Planning Services Centre
Development Approvals Review Team
Find Development Approvals Review Team staff to contact about specific applications.