Canada Day celebrations in Calgary
Fort Calgary Main Stage
Join Emcee Megan Pierson for a free all-Canadian line-up of musical performances starting at 4:30pm.
In partnership with Canadian Heritage, the main stage show will be featured on the CBC broadcast of Canada Day celebrations across the country. You can livestream the show from 6 to 8 p.m. on cbc.ca, CBC Gem and ICI.to.tv or watch it from 8 to 10 p.m. on CBC TV and ICI Radio-Canada Télé.
View main stage schedule
Watch online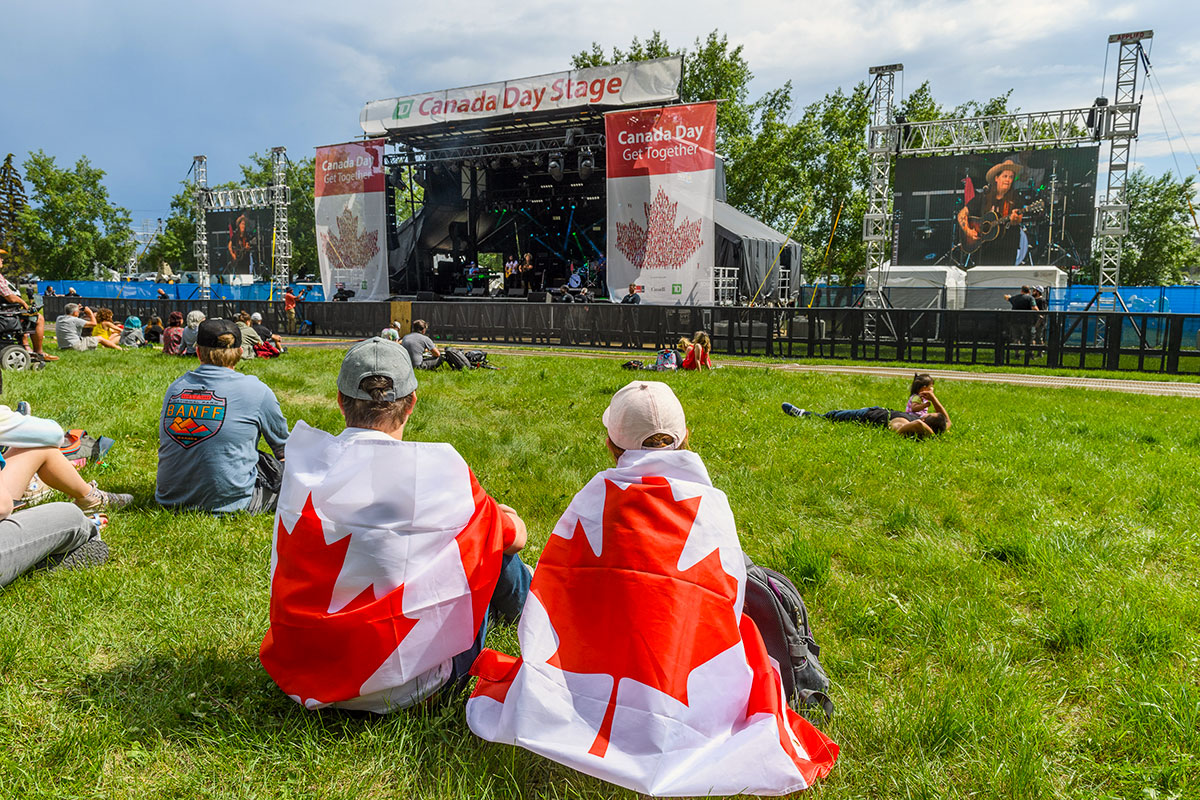 Fireworks
Canada Day will end with a fireworks show at approximately 11 p.m. launched from Stampede Park. The display will light up the sky in the downtown core and surrounding areas. 
Watch the fireworks from Fort Calgary or from one of many other great viewing areas in the city. The Stampede grounds will be closed to the public and is not a viewing location due to the set up of the 2023 Stampede. Vehicle access into West Ramsay (Scotsman's Hill) and Crescent Road will also be restricted.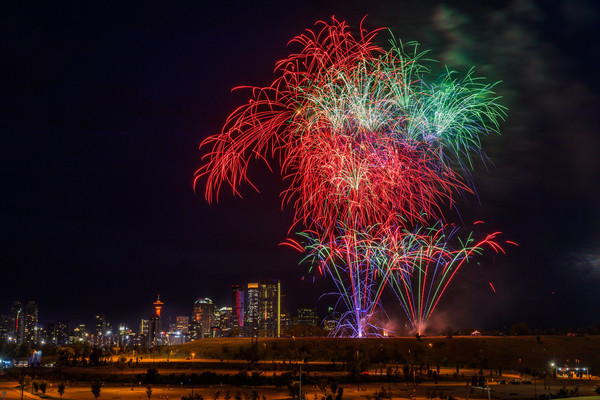 Canada Day event schedule
---
Need help planning your day? With so many events and activities to choose from, use the events schedule to see the event locations, times and descriptions.
Getting around on Canada Day
Let our map be your guide. Find event locations, information tents, washrooms and more. Simply click on the icons for details.
View the map
2023 Canada Day event locations
---
Calgarians are reminded to be a good neighbour while celebrating Canada Day by parking only where permitted, putting garbage where it belongs and keeping noise levels down when walking to and from the fireworks show.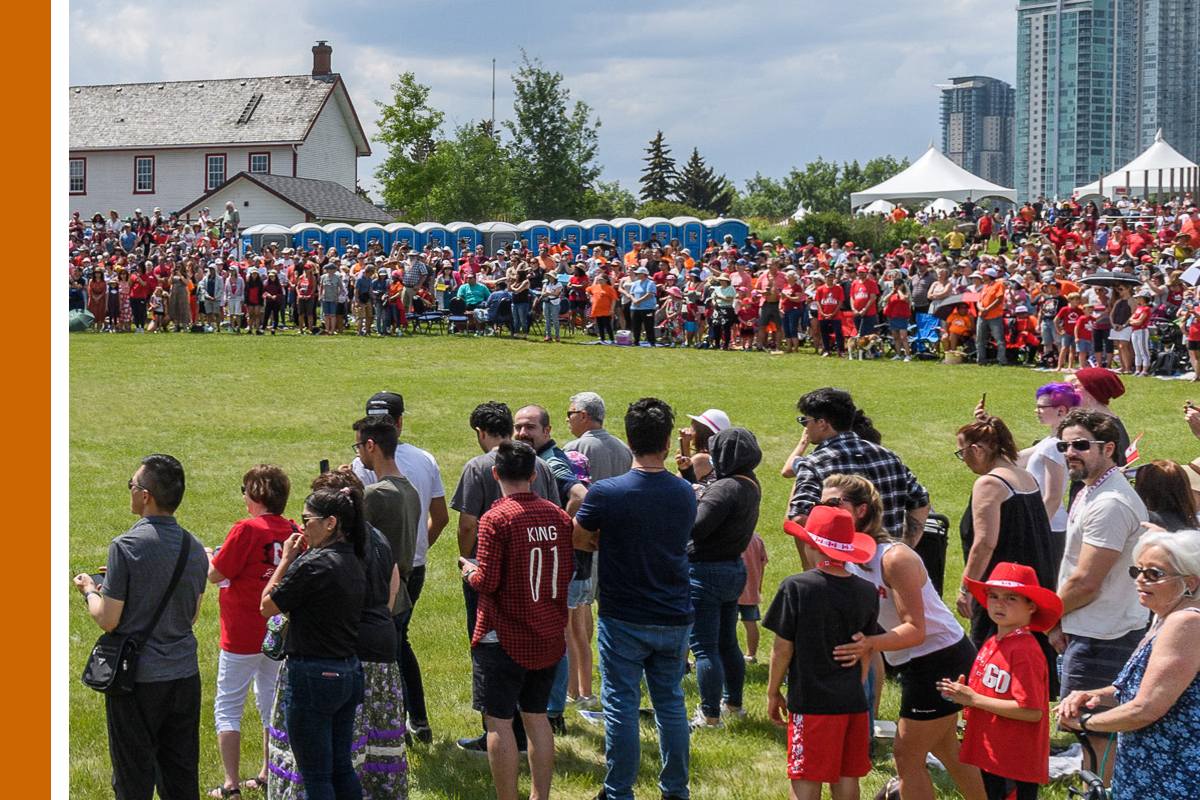 Fort Calgary
Home to the Indigenous showcase and powwow and Canada Day main stage with a lineup of all-Canadian musicians.
Canada Day main stage with Emcee Megan Pierson.
Indigenous showcase and powwow.
Indigenous Artisan Market.
Cultural booths.
Turban tying.
Walking tours starting every hour.
Food trucks.
Telus Rest Station.
BDO Debt Solutions Wayfinding Kiosks.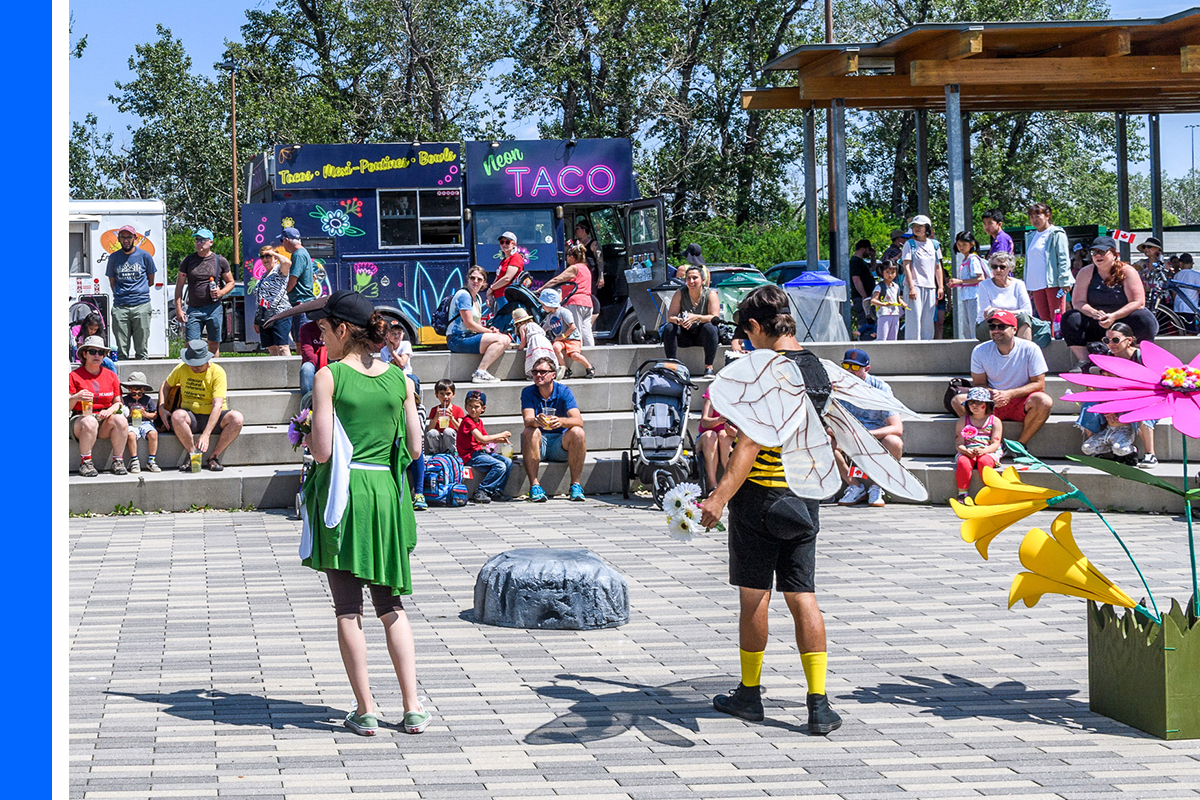 St. Patrick's Island
Enjoy family-friendly entertainment and the beautiful park.
Three stages with art and music performers.
Stilt walkers.
Face painting and airbrush tattoos.
Crafts and activity tents.
Playground and picnic spots.
Food trucks.
BDO Debt Solutions Wayfinding Kiosks.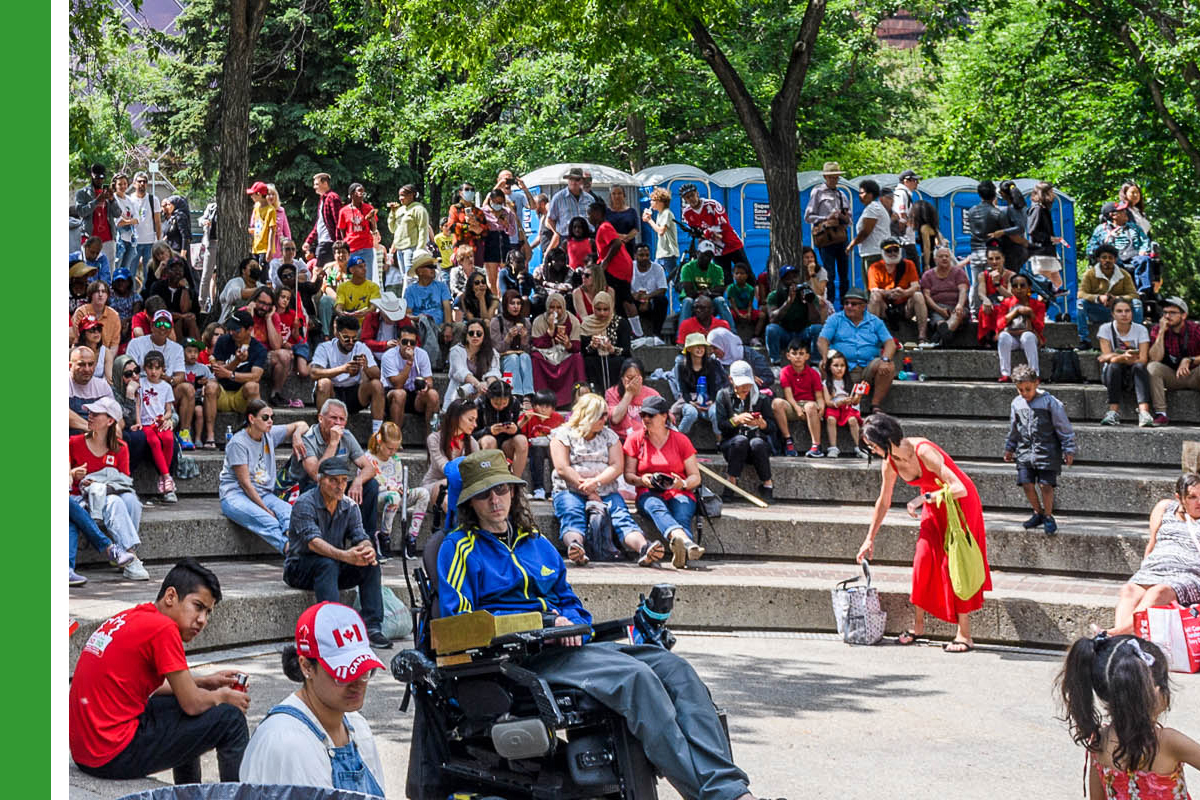 Olympic Plaza & Municipal Building
Get together for a great day of music and public art.
ArtsXpeditions presented by Arts Commons.
Local music – rock, Indigenous, R & B and more!
Children's art activities.
Dance, poetry and musical performances celebrating. Indigenous culture in the Municipal Building Atrium.
Chinese lion dances, Tai Chi and martial arts performances in the Municipal Plaza.
Food trucks.
BDO Debt Solutions Wayfinding Kiosks.
East Village
 July 1 at 6 a.m. - 12 a.m.
8th Avenue S.E. from 4th Street S.E. to 6th Street S.E.
6th Street S.E. from 9th Avenue S.E. to 8th Avenue S.E.
5th Street S.E. from 9th Avenue S.E. to 7th Avenue S.E.
The City of Calgary has sponsorship opportunities available. For more information, please contact eventservices@calgary.ca.