16 Avenue N Connected Vehicle pilot project
The City of Calgary is exploring Connected Vehicle (CV) technology that will help to develop new ways to keep roads safe and more efficient.
This technology can give users:
Safety messages for people who drive.
Warnings to help avoid collisions.
Information to help cities manage and prioritize traffic signals.
Real-time, location-specific traffic information on their cellphones.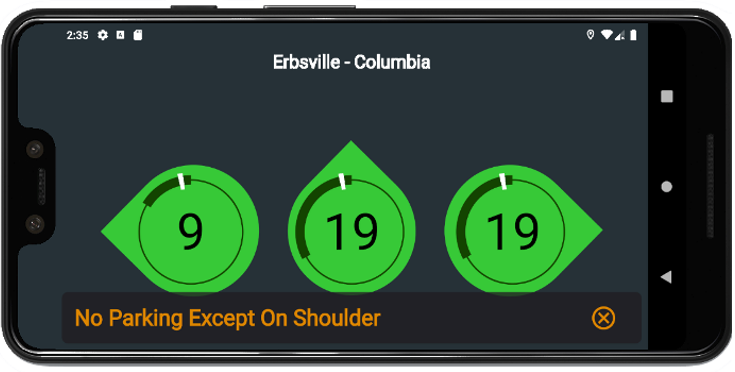 Project scope and background
The City has installed new technology called Connected Vehicle (CV) Equipment at 16 intersections with signal lights along 16 Avenue N. Radios were installed in several Calgary Fire Department vehicles in 2020. The 16 Avenue corridor will be used as a testing area, providing software vendors and vehicle manufacturers a place to test their products in the real-world. 
Connected vehicle test area map

Project details
These radios can communicate directly to people who drive, or wheel, either on a vehicle's dashboard or to a cell phone.
Messages have information on:
Traffic signal timing, including how long a light will remain green to how long a red light will last.
Warnings that another vehicle is quickly approaching the intersection from another direction and may not stop.
Custom sound or vibration alerts when a crosswalk is active for people who are vision impaired.
Traffic signal timing information allows people who drive to match their speed to the green wave along the corridor, reducing stops and emissions through smoother driving. The alerts will display in a non-distracting way such as an arrow on a vehicle's speedometer. This data is generated at the intersection, so users always have up-to-date information. People who walk and wheel can use a cell phone to communicate with the intersection and receive timing information and safety alerts.
As car manufacturers begin installing this type of equipment as a feature on vehicles, the City hopes to offer applications to Calgarians. The radios use strong authentication to ensure that users know the messages are from the City. The user's ID is randomized every five minutes so messages cannot be tied to personal information or tracked.
Calgary Fire Department vehicles are the only vehicles that will have authorization to pre-empt signal lights and give themselves green light to pass through intersections more quickly. This is because:
Fire trucks are large and cannot fit through gaps as easily as other vehicles.
Response time is critical for responding to emergencies.
Using Connected Vehicle technology allows these vehicles to pre-empt the signal without requiring line-of-sight as with the existing infrared system. It also allows the City to ensure only authorized users are allowed to pre-empt at signals.
To learn more, see our Smart city story.
Budget
In June 2018, Transport Canada supplied funding to The City of Calgary to set up a connected vehicle pilot on 16 Avenue North. The Federal Government's Program to Advance Connectivity and Automation in the Transportation System (ACATS) contributed $290,000 to buy equipment and software to enable Connected Vehicle communication. The City contributed labor to install the equipment and connect them to the traffic signal controller.
Next steps
16 Avenue is equipped and ready to use for any software vendor or vehicle manufacturer that has a product they would like to test. The City is also exploring using the internet to communicate with end users and avoid having to install radios at intersections. Some examples of future use include:
Integration with buses to provide priority greens at signals to speed up transit times and smoother rides.
Allow people who cycle to see when a signal will turn green so they can plan their speed and effort.
Supply safety-related messages to people who drive, wheel or walk to help avoid collisions.
Supply traffic information directly into a vehicle so people who drive can avoid congestion or closures.
Allow more options for vision-impaired people to request crosswalks and receive sound or vibration feedback when it is safe to cross the road.
Give mobility-impaired people who walk a way to request more time to cross the road.