Calgary Fire Bucket Brigade Summer Camps
Bucket Brigade is a four-day camp sponsored by ATCO. It gives youth, ages 14 to 18, a chance to learn about life as a firefighter. It also gives them a taste of our Fire Cadet program.
Campers will learn a variety of firefighter skills. They will learn how to:
wear and operate a self-contained breathing apparatus,
search a confined maze,
hook up a hydrant and handle a hose,
use a fire extinguisher*,
perform CPR*,
and much more!
*Campers will receive certification in CPR and fire extinguishers.
How to register
Complete and submit this registration form before July 21, 2023.
Instructions for submitting the registration are provided on the registration form.
Camp information
With ATCO's generous sponsorship, the cost to participants is minimal. All necessary uniforms and learning materials will be provided.
Cost: $375 for the four-day camp
(Costs include activities, certifications, water bottles and t-shirts.)
Ages: 14 - 18 years old (as of the first day of camp)
Dates:
August 15 - 18, Tuesday – Friday, 8:30 a.m. – 4:30 p.m.  
August 21 - 24, Monday – Thursday, 8:30 a.m. – 4:30 p.m.
Location: Fire Training Academy, 5727 23 Ave. S.E., Calgary
​​
​​​
Fee assistance
Residents of Calgary in financial need, can apply for help through the Fair Entry program. Subsidies are available for pools, day camps, and leisure centers.
Bucket Brigade camps aren't a part of the Fee Assistance program. However, those who have a valid Fee Assistance Card can pay a reduced rate.
You can find information and extra copies of forms at www.calgary.ca/firecadets or by calling the Fire Cadet office.
Refunds
To receive a full refund, you must cancel at least 14 days before the start of the program.
If you cancel after 14 days, a 25 percent charge of the full program fee will apply.
Once the camp has begun, there are no refunds except for medical reasons. A refund for the days remaining in the program are issued ONLY if you have a doctor's note.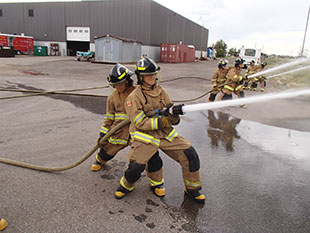 ​​​​​​​​​​