Gender Equity, Diversity and Inclusion Strategy
​Approved by Council in July 2019, The Gender Equity, Diversity and Inclusion Strategy recommends new and enhanced strategic actions that build on The City of Calgary's current work to advance diversity and inclusion.
The primary focus is gender equity, with consideration to the impact of intersecting identities such as ethnicity, culture, race, physical or mental ability on our planning and decision-making within our workforce, Council Boards, Commissions and Committees, and City service delivery.
The Strategy declares to employees and citizens that The City of Calgary is committed to creating an equitable and inclusive organization, where all genders can fully participate.
Strategic Framework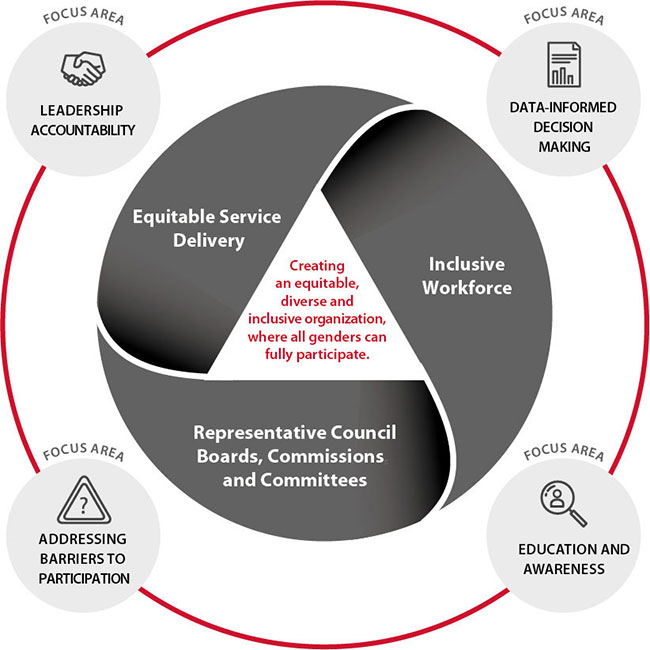 Area of Focus
The four areas of focus and accompanying strategic actions are evidence-based and informed by best practices of municipal, provincial and federal governments and private sector organizations.
The areas of focus are:
Leadership accountability - Leaders endorse and demonstrate commitment to advancing the actions of the Strategy.
Data-informed decision making - Decisions are grounded in an evidence-based and data-informed approach. Data that can be separated out (or disaggregated) by various demographic groups is an important component of this area.
Education and awareness - Change starts with the awareness of our unconscious biases and how they influence our decisions, combined with the development of skills to apply a gender equity lens.
Addressing barriers to participation - Adoption of Gender-Based Analysis Plus (GBA+) training will help The City to assess and develop approaches to planning and decision-making that consider the needs of diverse groups of people.
Strategic alignment
The Strategy builds on numerous initiatives across The City including:
Social Wellbeing Policy;
Diversity & Inclusion Framework;
Healthy Workplace Strategy;
Resilient Calgary Strategy;
Business unit gender initiatives; and
Calgary Police Service Diversity and Inclusion Strategy development.
Social Wellbeing Policy
In April 2019, Calgary City Council approved the Social Wellbeing Policy​. It includes principles that state The City will:
strive to provide equitable services, including removing barriers to access and inclusion;
advance the shared and active process of Truth and Reconciliation in collaboration with the community;
seek opportunities to support and grow culture; and
aim to stop problems before they start using a prevention approach.
There are numerous strategic actions in the Gender Equity, Diversity and Inclusion Strategy which will advance equitable services. Adoption of a Gender Based Analysis Plus (GBA+) framework will help more effectively plan, develop and deliver policies, programs and services to better meet the needs of all Calgarians.
Diversity and Inclusion Framework
The City strives to create a culture of inclusion where everybody is able to do their best because they are valued and respected for their differing opinions, thoughts and ideas. To achieve this, we continually work on making our processes and practices more inclusive, fair, equitable and accessible for all​.
We identify and eliminate barriers for underrepresented groups and create a safe space for meaningful conversations about diversity, equity, accessibility, human rights and respect to take place. When we feel safe at work, both mentally and physically, we can focus on our common purpose; making life better every day for Calgarians.
Committee and Subcommittee
The Gender Equity, Diversity and Inclusion Subcommittee provides advice to support the priorities of The City of Calgary's Gender Equity, Diversity and Inclusion Strategy, as well as projects identified by the Social Wellbeing Advisory Committee.