This directory promotes disability agencies & organizations throughout Calgary which provide recreation/leisure programs. The community services and resources listed are just a starting point to find out the various active living opportunities available for people with disabilities. It is produced with the principle that people with disabilities should have equitable opportunities to participate in activities of their choice; with a focus on inclusion in the community.
We hope that Recreation Discovery helps to facilitate the active living choices for people with disabilities in Calgary.
Active living is an important and essential component in the quality of life of all people. Active living increases overall well-being by providing physical, intellectual, emotional, social and spiritual benefits. Often a lack of information on what's available in the community is a barrier to becoming more active. These organizations are commended for their efforts on making active living opportunities available, accessible and inclusive for people with disabilities.​​​​​​​​​​​​​​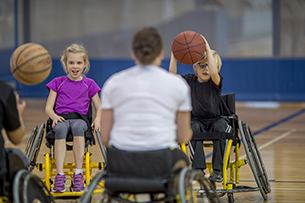 A resource directory to help you become familiar with recreation & leisure opportunities for people with disabilities.